More than one million passengers have used London's new Elizabeth line during its first five days of service.
Since its opening last week, more than one million customers have travelled on the central section of the Elizabeth line between Paddington and Abbey Wood. In addition, more than two million journeys have been made across the whole line, which runs from Reading and Heathrow in the west to Shenfield and Abbey Wood in the east of London.
The Elizabeth line is a significant addition to London's transport network, increasing central London's rail capacity by 10 percent. During its first five days of service, the new line has already improved over a million passengers journeys across the UK capital.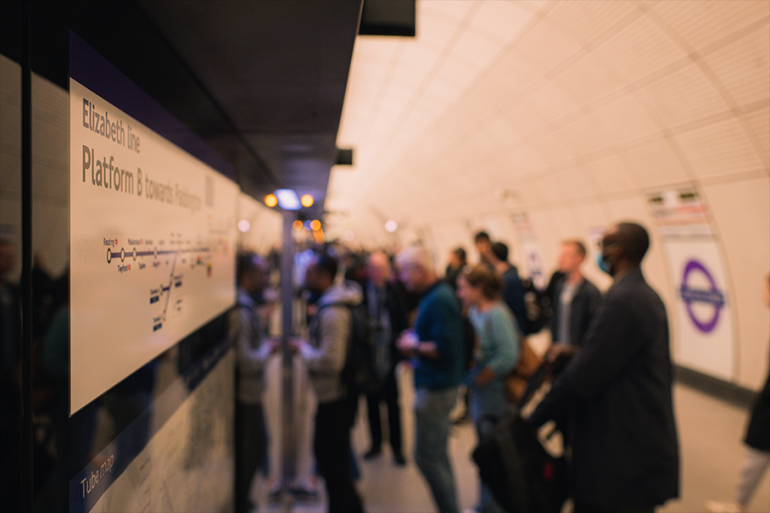 Businesses have also welcomed the arrival of the new Elizabeth line, which connects financial centres in the Square Mile and Canary Wharf to key business and cultural hubs in the east, including the Royal Docks and London's West End.
The new line reduces journey times between Abbey Wood and Paddington to approximately 29 minutes, which is almost half of the previous travel time, while trips between Farringdon and Canary Wharf now take around 10 minutes, instead of 24.
"It has been fantastic to see the Elizabeth line receive such a great reception. Customers have been flocking to the railway in the hundreds of thousands each day since opening to marvel at our beautiful new stations but also to experience drastically shorter journey times. It is already having a transformative impact on local businesses and opening up access to new areas of London."
The London Transport Museum has released a range of Elizabeth line merchandise to celebrate the opening, and railway enthusiasts have also been purchasing limited edition Oyster cards.
Although the Elizabeth line services will not operate on Sundays until later in 2022, a Sunday service will run on Sunday 5 June between Paddington and Abbey Wood for passengers celebrating the Platinum Jubilee.
"The Elizabeth line fundamentally changes London's economic geography. As a global megacity, London is home to districts which are world-class destinations in their own right – the West End for shopping and entertainment; the City and Canary Wharf for financial and professional services; Royal Docks for huge events; and Stratford's Queen Elizabeth Olympic Park for sports and culture. The new Elizabeth line connects these exceptional places with each other, with 1.5 million people, and with the world via Heathrow Airport. We know that London's growth has been driven by the breadth of our offer – commerce, culture, and government all in one place – and now, all on one green, accessible, and very beautiful train line."
The construction of the Elizabeth line has supported numerous businesses and jobs across the UK. The line's Class 345 trains were built in Derby, a business on the Isle of Wight supplied the roundels and signage, and a company in Leeds strengthened London's Victorian sewer networks during construction. The operation of the new line will now continue to support the creation of new jobs and economic growth throughout the country.