New Signalling System for the London Underground Successfully Tested
The transformation of London Underground's sub-surface lines has taken a significant step forward, with multiple test trains running on the brand new signalling system for the first time in London.
The new computer-based signalling and control system from Thales will allow trains to run closer together, meaning a more frequent service, shorter waiting times and a massive boost in capacity for the Circle, District, Hammersmith & City and Metropolitan lines.
Brand New Signalling System
Customers will start to benefit from the improvements from as early as next year, when the first section of the network to use the new signalling system goes live. The system will ensure greater reliability by reducing the number of signalling problems on sections of the Circle and Hammersmith & City lines next year, and will greatly improve the accuracy of real-time customer information on these lines. Services will begin to increase in frequency from 2021, when more of the network is operating the new system, and all four lines will be using the system by 2023.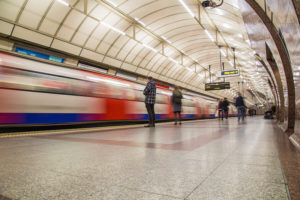 Increasing Capacity on the London Underground
Further testing weekends will take place in the coming months as the system is progressively installed across more of the network. This capacity increase, up to 33% across all four lines, will improve the whole sub-surface network, which makes up 40% of the Underground network. The modernisation will also mean that Night Tube services can be introduced on these lines in the future.
Successful Testing
Testing took place between Hammersmith and Latimer Road featuring three newly-enabled S stock trains. The testing involved using the new signalling system to manage the distance between trains. The new modern 'S stock' trains that run on all four lines are currently having new equipment installed, with 30 already fitted out by Bombardier.
The next testing weekend will be in December, with installation work continuing throughout the year.
Mark Wild, the Managing Director of London Underground, said:
"This is a fantastic step forward in the vital programme to modernise nearly half of the Tube network. The new signalling system will provide our customers with more frequent trains and quicker journeys, as well as improving reliability and improving customer information. We are making improvements for our customers all over the network and this programme represents a hugely significant part of that work."
Shaun Jones, Vice-President, Transport at Thales in the UK, added:
"This is a significant milestone for us to achieve on this critical upgrade for London. We have demonstrated that our state-of-the-art radio communications technology will deliver better, more reliable journeys on 40% of the network, creating a world-class transport system for our capital city".
Original article © Transport for London.
FOR ALL THE LATEST INFORMATION, NEWS, IMAGES, VIDEOS AND ARTICLES ON ALL ASPECTS OF SIGNALLING AND TRAIN CONTROL, PLEASE CLICK HERE.