Intrinsically Safe Nautiz X1 Compact from Handheld
Manufacturer of rugged mobile computers, Handheld Group, have announced its first rugged computer which has been certified as intrinsically safe. The model is a special version of the Nautiz X1 compact handheld. The model was developed in collaboration with MCS (Mining Consultancy Services Pty Ltd).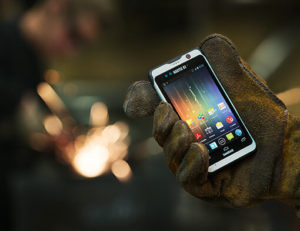 This model, as an intrinsically safe version of the Nautiz X1 ultra-rugged handheld, will initially be released in South Africa, where it has received Ex ia (Zone 0) and Ex ib (Zone 1) certification. Equivalent certification for other territories and internationally will be likely approved later in the summer of 2016.
The IP67 ingress protection rating of the Nautiz X1 guarantees its complete protection from dust and particles, as well as making it water-resistant. It meets strict MIL-STD-810G military standards to survive against humidity, vibration, drops and extreme temperatures.
Nautiz X1 Compact
The Nautiz X1 operates on a 1 GHz dual-core processor and 512 MB of RAM and comes with a standard 2GB of storage. It delivers reliable high-speed data transfer over GSM networks, as well as connecting to 802.11 b/g/n Wi-Fi networks. It comes with Bluetooth and GPS and features a 5-megapixel camera. Users can also select either Android 4.0 or Windows Embedded Handheld 6.5 operating system.
Johan Hed, Handheld Group director of product management, said:
"This version of the Nautiz X1 is designed specifically for the intrinsically safe market, so now users in the mining, chemical plant, oil and gas, and asset and facility management markets can safely collect data where potentially explosive gases, liquids or vapors may appear. Over time we've seen an increase in demand from these segments of the market, and we're very pleased with our collaboration with MCS and that together we can introduce the Nautiz X1 to this audience."
Chris Wilkinson, CEO of MCS, said:
"Historically, mobile computers for use in hazardous environments have been large and heavy with limited functionality, forcing users to make significant tradeoffs. With the Nautiz X1 intrinsically safe version, this is no longer the case. With the combination of our expertise in hazardous areas and Handheld's experience in building ultra-rugged mobile computers that also feel good in the user's hand, we believe our customers will truly be getting the best of two worlds."
The special model of Nautiz X1 will be exclusively available via MCS and its partner network, and showcased at African Utility Week beginning the 17th of May in Cape Town.