Experts from Loughborough University, the University of Sheffield and engineering firm Perpetuum are developing an on-board system that can identify low adhesion hazards such as leaves on the line.
Currently these types of hazards are hard to be monitored or controlled, and cost the UK rail industry an average of 350 million GBP (419.05m euros | 473.73m USD) each year.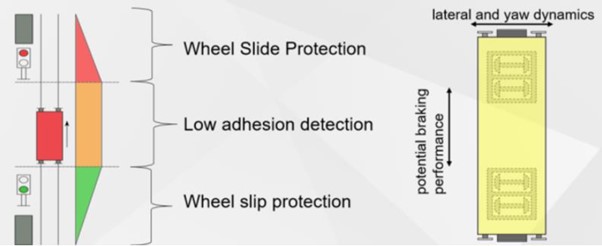 The new partners aim to develop a system that's capable of detecting low-adhesion hot spots in real-time and creating a live map of the UK's network highlighting where potential hazards could be found.
This will enable network operators to react more quickly to potential risks ensuring rail safety and eliminating delays.
The detection system will use established sensing methods to pick up small changes in how the wheels of a carriage respond to different track conditions.
This data will then be processed using newly developed algorithms and if required, a warning can be sent to the driver or network operator.
"The rail industry invests huge amounts of money in rail head cleaning, controlling flora alongside lines and forecasting where low adhesion events may occur – but it's not an exact science and affected areas may only be discovered after an incident has taken place.
"The areas of low adhesion can often be short lived and various types of train can react differently to the conditions.
"This new technology, by detecting low adhesion in real-time from in-service vehicles, will allow for a much more accurate picture of where hazards lie on the UK's huge network of track, which will mean a quicker response - such as defensive driving or railhead treatment - and as a result a safer network with fewer delays."
The 22-month study will see the project team conduct a major test programme at Network Rail's Rail Innovation and Development Centre, in Nottinghamshire this summer.
According to Elaine Cockroft, Project Manager at Network Rail, the aim is to develop a first-of-type product addressing the issue of low adhesion on the wheel/rail interface and consider a tribometer/measurement tool capable of determining the coefficiency of friction on the rail head.
If all goes well, a device will then be installed on the Network Rail head treatment train or a multi-purpose vehicle to capture intelligent seasonal treatment data at a minimum speed of 60 miles per hour (mph) and demonstrate the effectiveness of the rail head treatment.
The end goal is to add the technology to passenger trains or freight locomotives. In order to do so, the technology would need to be developed to capture continuous data at a travelling at 125mph across the network, which would feed into an up-to-date adhesion map of the network.