Latest Innovations from Danobat at IMTS 2016 Exhibition
Danobat will showcase their latest technological solutions relating to the machining of components at the International Manufacturing and Technology Show 2016 (IMTS). The exhibition will take place 12–17 September 2016 in Chicago.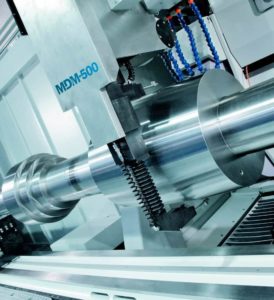 Visitors at the exhibition will have the opportunity to see the Danobat HG universal heavy duty grinding machine, as well as the Danobat-Overbeck IRD-400 internal, external and radius grinding machine.
The Danobat HG grinding machine range features a moving table and is capable of grinding work pieces of lengths of up to 5000mm. This makes it an ideal choice for applications in the railway, aerospace and power generation sectors.
The Danobat-Overbeck IRD range is able to carry out internal, external, radius, face and non-round grinding operations. These machines are perfect for forming and cutting tools, ceramic parts and other components for oil and gas and transmission industries.
Danobat will also showcase their most recent innovations in their advanced manufacturing lines for railway and oil and gas industries. They will be exhibiting at South Building S-9453 at the IMTS Exhibition.
Danobat is the division of DanobatGroup which is expert in lathes, grinders, laser cutting machines, punching machines and automatic bending machines. They also produce composites automation integrators. The DanobatGroup is the biggest machine tool and production system manufacturer in Europe.