Korea Ready for Kuala Lumpur-Singapore High-Speed Railway Project
South Korea has a small, open economy with heavy dependence on external trade and over the past decades, its economic growth has been powered by robust exports to China, Korea's largest trading partner. However, with China losing growth momentum, Asia's fourth-largest economy is seeking a breakthrough in the ASEAN region as the launch of the ASEAN Economic Community (AEC) brings huge infrastructure opportunities for Korean firms.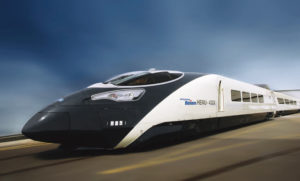 As the first step, Korea is paying keen attention to the multibillion-dollar Kuala Lumpur-Singapore high-speed railway project before an international tender early next year. In July, the two nations signed a memorandum of understanding to develop the 350km line.

Since the $15 billion railway deal is the first mega-size project in the region following the AEC launch, whoever wins the lead role will seal an advantage to strengthen a foothold in the growing market.

Infrastructure and Transport Minister, Kang Ho-in, said:
"The Malaysia-Singapore high-speed railway project is now a top priority for the Korean government."

"President Park Geun-hye has a keen interest in the project. That's why the government has taken the initiative to get the contract and our consortium has been joined by various state and private enterprises."
According to sources, Park personally plans to have direct talks with Malaysian Prime Minister Najib Rajak on the project, which is scheduled to start in 2017 and be completed by 2022.
In June, Kang had a four-day visit to Malaysia with a Korean delegation to pitch Korea's strengths ― safety and advanced technology. Korea plans to transfer key technology and know-how if it wins the railway project.
Kang added:
"Unlike other countries, Korea is able to transfer key technology more easily because the public sector has secured most of the technology through state-led R&D."
According to the European Railway Agency, Korea ranked top in high-speed railway safety, with the accident rate per 1 million kilometers the lowest at 0.073 in 2014, followed by Italy at 0.09, the Netherlands at 0.119 and Germany at 0.166.
Korea's model would be a choice most beneficial to Malaysia because it can provide the best services not only in construction but also in maintenance, according to the transport ministry.
For the original article, please click here.