Kapsch CarrierCom Supply TETRA Infrastructure for Rio 2016
Leading Austrian Public Transport and Telecoms Solutions company Kapsch CarrierCom, successfully delivered its TETRA infrastructure network for the Rio de Janeiro Metro Line in time for its launch on August 1 – preliminary to the 2016 Olympic Games.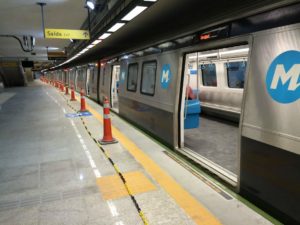 TETRA Infrastructure
The new metro Line 4 in Rio de Janeiro, Brazil, features TETRA (Terrestrial Trunked Radio) communications infrastructure, implemented by Kapsch CarrierCom, which will be instrumental in the smooth running of the line. The new line endeavours to ensure the hundreds of thousands of sports fans receive a pleasant travel experience, reaching their destination with ease, in a safe, timely manner.
Kapsch CarrierCom was selected by project lead ENG to distribute the TETRA network for line 4 back in the beginning of 2015, with a project deadline of just in time for the Rio Olympic games on August 5, 2016. It also included implementation at four base stations, 60 in-train cab radios, 21 optical repeaters and 140 hand-held portable radios.
The new TETRA radio network will facilitate communication for the operator, transmit relevant operational data and offer voice and data connectivity that is dedicated, secure and highly reliable; thus making it a key contributor to efficient network performance and optimal passenger safety.
The COO at Kapsch CarrierCom, Thomas Schöpf, said:
"It was challenging to finish the project in time for the upcoming Olympic Games. But thanks to our deep understanding of the communications needs of public transport operators as well as extensive experience of planning, building and operating TETRA networks, our team has managed to deliver this mission-critical solution in time."
From planning, to design and deployment, Kapsch CarrierCom ensured the project was successfully executed. The TETRA infrastructure was integrated with the existing Lines 1 and 2 and the 3rd line support, in co-operation with Rohill. Cobham Wireless also contributed, with the installation of an Antenna System Solution for indoor coverage, including in tunnels, technical rooms and on platforms. The cabins' radio solutions, for trains with a public announcement interface, was delivered by Schnoor.
Metro Rio is Ready
Director of Metro Barra, where the Olympic Park is located, Pedro Augusto da Silva, said:
"Kapsch was able to design a solution that fully meets our requirements in terms of implementation, service and functionality. As a result of Kapsch's committed effort, the new metro Line 4 has started operating just in time for the Olympics".
The Rio de Janeiro metro line 4 will no doubt contribute to well regulated travel during the 2016 Olympic Games; with 15 trains serving six major stations, carrying over 300,000 people per day and thus taking almost 2,000 cars off the roads. The new line is in the district Barra da Tijuca of Rio de Janeiro, where the heart of Games, the Barra Olympic Park, is situated, with nine venues hosting 16 Olympic and nine Paralympic sports.