InnoTrans 2018 Announces Programme for Official Opening Ceremony
Christian Göke, CEO of Berline Messe, opening ceremony, InnoTrans 2016 © InnoTrans
InnoTrans 2018 has invited more than 1,000 senior figures from industry, science and politics around the world to attend the opening ceremony of the trade fair. The guests include ministers of transport from several countries.
Dr Christian Göke, CEO of Berline Messe, Violeta Bulc, European Commissioner for Transport and Andreas Scheuer, Federal Minister of Transport and Digital Infrastructure in the German government, will deliver addresses to welcome the guests.
Andreas Scheuer said:
"We want rail travellers to experience a 'wow effect', and in that respect the rail industry with its forward-looking innovations can make a decisive impact. At InnoTrans visitors will be able to witness these fascinating technologies close up. Our goal is to make the railways the most environmentally friendly means of transport for a digital society, and ensure that for the public rail travel becomes a passion."
The slogan for InnoTrans 2018 is 'Mobility: Innovative – Multimodal – Sustainable'.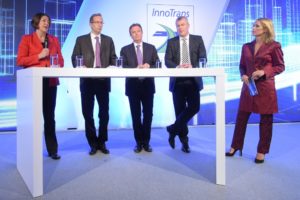 After the welcome addresses senior figures in the global rail industry will participate in a panel discussion. The speakers include:
 Jürgen Fenske, President of the Association of German Transport Companies (VDV)
Dr Richard Lutz, CEO of Deutsche Bahn AG
Henri Poupart-Lafarge, Chairman of the Board and CEO of Alstom
Laurent Troger, President of Bombardier Transportation
Michael Peter, CEO of Siemens Mobility GmbH
After the ceremony the guests will be given a tour of the exhibition halls, the outdoor display and the bus display.
The official opening ceremony for InnoTrans 2018 is scheduled for 10:00-11:30 on 18 September. The event is exclusively for invited guests, but journalists can obtain accreditation to attend until 12 September 2018.