Hyperloop One Test Run a Success
Hyperloop One, previously known as Hyperloop Technologies, is one step closer to constructing the world's first full-scale hyperloop with the completion of a successful propulsion open-air test run where a test module reached a speed of 187km/h in just four seconds on a 1.6km test track in Nevada. It has also very recently secured $80 million in funding from Series A investors Sherpa Ventures, Eight VC, Zhen Fund and Caspian Partners.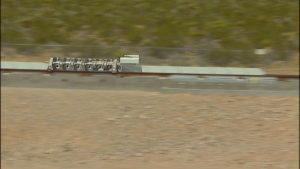 New investors in the Series B round are 137 Ventures, Kholsa Ventures, Fast Digital, Western Technology Investment, SNCF and GE Ventures. The relationship with key players in the field of engineering, operations, architecture and construction, as well as passenger and freight economics, station design and tunnelling, will no doubt add credibility and strength to what will prove to be, if successful, a revolutionary project.
Hyperloop One's partners include Amberg Group, Arup, Deutsche Bahn Engineering and Consulting, KPMG and Systra. These prestigious companies will lend their expertise in transport solutions while the project is developed.
Mathieu Dunant, Systra Executive Vice President France, member of the Executive Board, said:
"Hyperloop One is bringing major innovation to the world of super-fast transport. We are very excited to have the chance to work with them to make Hyperloop a reality in France, Russia, the CIS countries and the Middle East. Given our position as a global leader in infrastructure and transport system design, we could not turn down the opportunity to participate in a project that is set to revolutionise transport systems in the future."
What is Hyperloop?
A hyperloop, as a mode of transportation powered by vacuum chambers, was originally conceived in the 19th Century, but failed to gain traction until Elon Musk proposed a design which used reduced-pressure tubes, in which pressurised capsules (which could carry passengers or freight loads) run on an air cushion. They are powered by linear induction motors and air compressors. Hyperloop One hopes to run these capsules at 1,200km/h. The technology has been open-sourced, which means that anyone can utilise and build on the existing technology.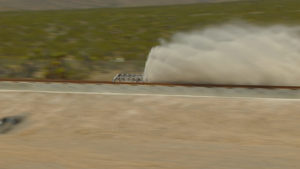 The virtue of a hyperloop is the absence of friction and the low-carbon power source. Some proponents of hyperloop technology believe that conventional rail has come as far as it can go. Should the technology prove feasible, it would completely revolutionise land transport.
Rob Lloyd, CEO of Hyperloop One, said:
"The time is right to bring new thinking to old problems and harness new technologies and services to make a quantum leap in transportation."
Brogan BamBrogan, Hyperloop One co-founder and CTO said:
"Our growing team of incredible engineers is working at full-speed along a proven development process to design, analyse, build and test the hardware and software to make Hyperloop a reality. We are proud to show off our progress today and look forward to meeting more milestones on our way to debuting a full-scale system later this year. No one comes close to our progress in commercialising this revolutionary transport system."
Hyperloop One Test – Just the Beginning
Hyperloop One now has more than 150 employees at an "innovation campus" in Downtown Los Angeles and a safety site in North Las Vegas. The project also benefits from government support, with local officials in North Las Vegas, Clark County and the State of Nevada enabling fast development of the test site in Nevada.
It is also participating in feasibility studies exploring the economic and social benefits of hyperloop lines in Finland and Sweden, working with FS Links AB to develop a hyperloop line between Stockholm and Helsinki. Hyperloop One is looking at other sustainability studies in Los Angeles and Switzerland. Hyperloop One is set to establish itself as the dominant company in this sector.
Hyperloop One Challenge
The Hyperloop One Challenge has been launched today in a bid to encourage individuals, companies and governments to bid for the first hyperloop route. Factors including probability of fiscal, regulatory and government support will be looked at in the proposals in order to determine which city or country should host the flagship hyperloop line.
Shervin Pishevar, Hyperloop One co-founder and Executive Chairman, said:
 "The overwhelming response we've had already confirms what we've always known, that Hyperloop One is at the forefront of a movement to solve one of the planet's most pressing problems. The brightest minds are coming together at the right time to eliminate the distances and borders that separate economies and cultures."