Hyperloop Metalworks Facility Opens In Nevada
Innovative transportation specialists Hyerloop One have opened a metalworks facility in North Las Vegas, Nevada. The Hyperloop One Metalworks facility is the size of two American football fields, and is designed for engineers, machinists, technicians and welders to construct the components that will make up a full-system Hyperloop prototype. Trials are begin to run early in 2017.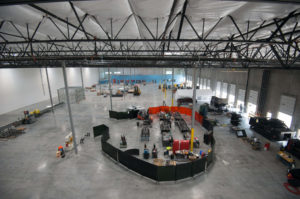 The Hyperloop is a novel system of transportation, moving passengers and freight through near-vacuum tubes at very high speeds, using electric propulsion over a non-contact levitation track.
The metalworks have new CNC mills, laths, welding machines and tables and a cutting-edge metrology room for accurate measurement of the materials and subcomponents of the Hyperloop system. The facility also has a flow waterjet cutters, which blast high-pressure water to cut materials at speeds of up to 36m a minute, with an accuracy to within 1/1000th of an inch.
The facility means that Hyperloop One can move their manufacturing research and development in-house, bringing costs down. The metalworks will produce the custom equipment and components with precision. Elements such as the thyristors and stators used in our propulsion system will be produced at the system. Other components including tube aligning systems, stiffener rings, and the joints between tubes and their supporting columns will also be manufactured in-house.
Josh Giegel, cofounder and president of engineering at Hyperloop One, said:
"The facility is essential as we continue testing and is an incredible asset as we continue on the path towards making Hyperloop a reality. The equipment housed at Metalworks gives us the flexibility and freedom to build rapidly and develop the Hyperloop in real-time."
The facility will also generate jobs in Nevada, which has ensured support from the city of North Las Vegas and the state in the development of the facility, and Hyperloop as a mode of transportation.