To analyse detailed passenger movements within their stations Network Rail recently adopted a new tool for station capacity planning.
Train stations are certainly some of the most bustling places on earth. Some of the largest stations worldwide serve millions of passengers every day. Even the medium size stations have to handle tens of thousands of people rushing to the platform or using the opportunities for retail and leisure. Have you ever wondered how these highly frequented transportation hubs manage these huge passenger flows? Station capacity planning and crowd simulation are keywords here.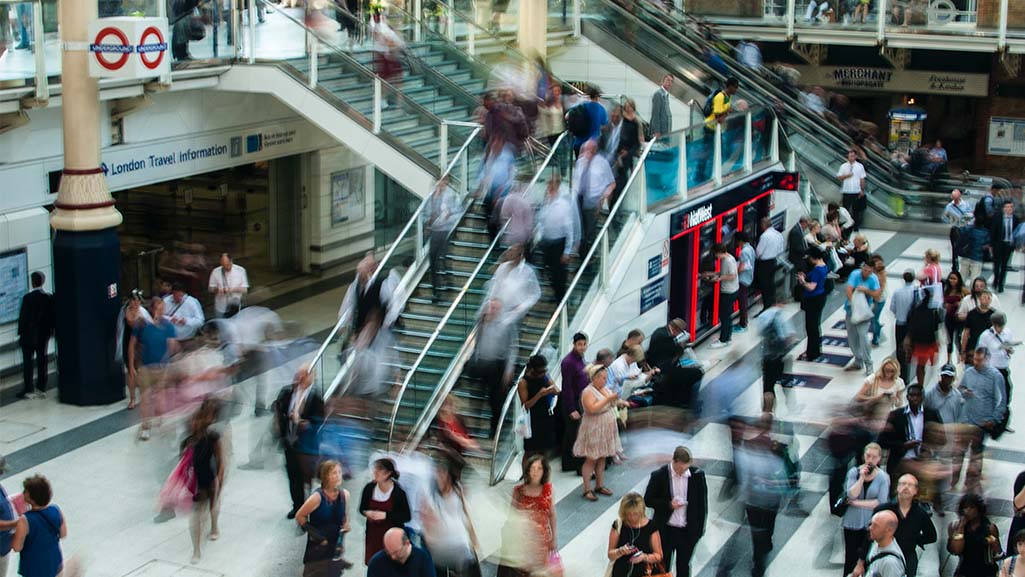 Let's jump into an example in the UK: Network Rail owns the over 2,500 train stations across the country and manages 20 of the largest and busiest themselves. To ensure the best experience for passengers, the company aims to create stations that are accessible to everyone and to ensure smooth, efficient, and safe operations, even during peak periods. Station planners have to answer questions like "How long does it take to transfer between services?" or "Are the connection times realistic?" To analyse detailed passenger movements within their stations, Network Rail recently adopted a new tool – a first-of-a-kind solution based on PTV technology.
A Detailed but Easy-To-Use Solution
When it comes to station capacity planning, microsimulation models are a kind of gold standard. Such models are very detailed and complex and hence require large amounts of data including passenger numbers, accurate station layouts, and calibrated parameters. Each individual scenario can be evaluated down to the minutest detail. They are mainly used to model large terminus stations, where there are complex interactions between passengers across multiple concourses, retail facilities, platforms, and exits. Smaller stations often rely on simple spreadsheet-based calculations without detailed representation of station layout and passenger conflicts.