Handheld to Provide Ultra-Rugged Tablet to Saab
Rugged computer and tablet manufacturers Handheld Scandinavia, a subsidiary of the Handheld Group, have entered into a two-year strategic agreement with global defense and security solution provider Saab. The agreement provides for Handheld to supply Handheld ultra-rugged tablet for Saab's military, aerospace and emergency activities.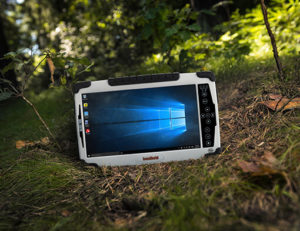 Handheld Ultra-Rugged Tablet
The agreement provides for an option to extend, and relates to Handheld's existing range of tablets as well as future innovations. Saab has already integrated Handheld's Algiz 10X rugged tablet with Paratus, their emergency care modular information system which has been deployed in ambulances in Sweden. Saab also has fitted SITHS smart card readers onto the Algiz 10X rugged tablets. SITHS (Secure IT for Health Care) uses a two-factor electronic authentication protocol and meets current standards for National Quality Registries in Sweden.
Torkel Zettergren, Managing Director of Handheld Scandinavia said:
"We are pleased that Saab has chosen Handheld as a partner for integration with their innovative solutions. We look forward to a long-term partnership. Our tablets are built to withstand the most demanding environments. Saab, as a global solution provider for military, aerospace and public safety, understands the benefits of Handheld's high quality ruggedness."