Handheld Nautiz X2 Rugged Handheld Device Launched
Rugged mobile computer manufacturer, Handheld Group, have announced the launch of the new Handheld Nautiz X2 enterprise handheld, a mobile phone with an integrated scanner and camera. It is the most compact and ergonomic device of its kind available.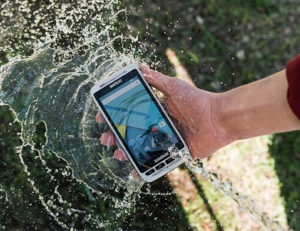 The Nautiz X2 delivers an all-in-one mobile computer capable of multiple functions, whilst being rugged enough to be used anywhere, from warehouses to environments with extreme temperatures, dust, moisture and potential drops.
Features on the Nautiz X2 include:
A quad-core processor and ergonomic Android 5.1 Lollipop OS.
High-quality, high-speed scanners with 1D or 2D capability.
An integrated camera with 8-megapixel clarity, as well as autofocus and flash.
4G/LTE Android phone functionality.
Google GMS, giving users access to Google Maps and access to Play Store apps downloads.
Sunlight-readable 4.7-inch capacitive display with multi-touch sensitivity.
The Nautiz X2 also delivers the best value of comparable handhelds, and is unique in its small size, weight and sleek design making it popular with users.
Johan Hed, Handheld Group director of product management, said:
"The challenge in designing market leading devices in a given product category, is to balance key factors like technology, design, materials and general usability as well as keeping the cost in mind. The brilliance of the Nautiz X2 is that it has that tangible in-the-hand sense of form and fit of high-end technology device, and we are still able to offer it at an impressive value."
The Handheld Nautiz X2 dimensions are 150 mm x 73.5 mm, and 16 mm deep at the keyboard. It weighs just 230 grams. It features an IP65 ingress protection rating against dust, sand and water immersion, and meets rigorous MIL-STD-810G military test standards for overall durability and resistance to humidity, shock, vibrations, drop, salt and extreme temperatures. The touchscreen itself is made of Gorilla Glass for extra durability, and is an attractive design.