HackTrain Announces Teams for Its RailTech Accelerator Programme
HackTrain's Quest to Bring Innovation to the Rail Industry – Hackathon

As Railway-News reported last November, HackTrain ran its on-train hackathon where the 120 participants were put on three different trains focusing on three different subject areas – data, customer experience, and infrastructure.
They then grouped themselves into teams and set off on their train journey to York (home of the National Railway Museum and site of the finale).
These trains were regular passenger trains and the teams were tasked with coming up with innovative solutions for the rail industry. The goal: to help the rail sector transform into an industry full of innovation and modernization and quick turnaround times from idea to implementation.
Taking the Hackathon Further – 3-month RailTech Accelerator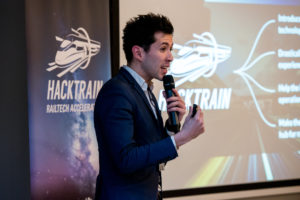 This hackathon, however, was only part of the vision held by HackTrain founders River Baig and Alejandro Saucedo. They are serious about wanting to infuse the traditionally less cutting-edge rail sector with innovation.
Part of the problem, they've always maintained, is that the approach of developing a product or technology to perfection first and then launching it is flawed. It means too much upfront investment. It means too much time from concept to implementation And, importantly, it means no option for continuous customer feedback to make the product truly useful.
Now they have launched their Hack Train RailTech Accelerator, a three-month programme where early-stage tech companies are able to test their products on both customers and railway staff, all while receiving hugely valuable mentoring.
River Baig, Co-founder of HackTrain, said:
"Much like everyone who travels by train regularly, we want customer service and operational efficiency to improve. It is something that we are incredibly passionate about and why we are so driven and motivated to play our part in making the UK the world's hub for RailTech. […] We want to make sure their efforts and enthusiasm translate into real results by providing funding, industry contacts and a shorter and more efficient procurement cycle so that passengers can benefit from these new solutions faster."
Hackathons and Accelerator Programmes for the Rail Sector – A Growing Trend
Other operators, such as Alstom, have held hackathons to address industry problems. And it is not the only rail-focused accelerator programme – DB run one in Berlin.
However, what is exciting here is the collaborative approach. This RailTech Accelerator enjoys the support of important UK players in the transport sector, such as First Group / GWR, Stagecoach / Virgin Trains, Arriva, National Express and Govia, and that of major service providers to the rail industry such as BAE Systems, EY, Novocroft and Osborne Clark.
Another positive feature of this RailTech Accelerator programme is that it is run by two people who don't come from the rail sector. As a result, they can offer a truly fresh perspective and bring successful approaches from other industries to the rail sector.
Alison Smith, Head of Customer Experience at GWR, said:
"Technology has fundamentally changed the way that we travel. Not only distances covered, but in the way we access information about services and in our ability to purchase 'smart' tickets while already on the move. […] That is why we support this accelerator programme, bringing together some of the brightest minds in technology and design to further improve passenger experience."
During HackTrain's RailTech Accelerator, which is based in the heart of London's Tech City and will run until 3 June, the supporting rail companies will provide weekly mentoring sessions to the teams to help them deliver innovative solutions for the rail industry. Some of the ten participating teams are already more established. Others are in the early stages. Some teams are small with just 1–2 employees, while others have up to 70.
The participating teams are as follows:
·  Sirenum streamlines the management of part-time, temporary, mobile and remote staff
·  iGeolise have created the TravelTime API, which makes it possible to search location data by travel time rather than distance
·  Powermat equips venues such as trains and stations with wireless charging facilities
·  ParkJockey is a parking product to facilitate parking for both the driver and the parking space operator
·  Nimber is a community delivery service where items can be sent with someone already travelling to that destination
·  Pointr is an indoor location data and analytics platform helping users access data about who was in their venue, what they searched for and other such features
·  Vivacity Labs have smart cameras to quantify and classify moving objects anonymously. They could be used to count platform occupancy or look for potential suicides; the long-term data could benefit future station design
·  Ticket allows customers to access innovative features by scanning their paper ticket with their smartphone camera
·  Dojo is a mobile service that helps users find the most interesting and unique things to do in their city
·  Dispatch Messenger Ltd is an app allowing users to shop by chat. The requested items will be sourced and purchased from London shops and delivered within an hour
Disruption Feed, which won the Post-Hackaton event held in London last December and thereby won a place on the Accelerator, is not participating.