GoMedia and Virgin Trains Deploy BEAM On-board Entertainment
Virgin Trains have launched a new BEAM on-board entertainment platform from GoMedia, an on-board infotainment provider. The app, the first of its kind service in the UK, was announced at a launch event which took place at Euston Station. It is the second such collaboration between Virgin and GoMedia.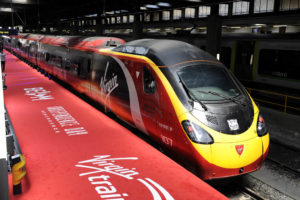 The fully integrated infotainment system comes in the form of an app called BEAM. It delivers high-quality entertainment directly to passenger's mobile or tablet devices via on-board wifi from a content server hosted on the train. The system is completely customised to Virgin Trains. The entertainment package provides blockbuster films, TV box sets, cartoons, games and digital magazines.
The first collaboration between GoMedia and Virgin Trains was launched earlier this year. It was an "Earlybird Boarding" system for Euston Station which sends text messages to passengers giving them passenger and boarding information. This enables them to relax and use facilities at the station.
Roger Matthews, managing director, GoMedia, said:
"We are delighted to be working with Virgin Trains to provide a ground-breaking entertainment service to their passengers. Our platform makes use of Virgin Train's existing on-board Wi-Fi infrastructure, so not only can passengers stream great movies, TV shows and more over the trains' Wi-Fi network, those passengers wishing to use off train connectivity for lower bandwidth data uses will find it to be far more efficient. With approval of the GoMedia platform from all major content owners, Virgin Trains can offer customers premium video programming from Hollywood studios, BBC Worldwide and more, contributing to an altogether outstanding customer experience."
Patrick McCall, Co-Chairman for Virgin Trains, said,
"The new BEAM app will make our passengers' journeys fly by, feeling like they've arrived at their destinations before they know it. We've worked really hard to provide a fantastic range of entertainment to cater to all of our customers' tastes and are really proud to offer this service that is the first of its kind to the train industry.  At Virgin Trains we pride ourselves on continuously improving our customers' on-board experience and so will continue to update the content on BEAM to guarantee our passengers have the latest entertainment on offer. The new service is more advanced than the systems currently available on planes as customers use their own devices, which normally have larger screens with better picture quality than standard seat-back devices."