Virgin Trains Roll Out Tactile Rail Maps
Virgin Trains have launched tactile rail maps at ten stations in the UK. The maps may be read by touch and sight. The initiative was developed with RNIB (Royal National Institute of Blind People), and will be available on the eleven stations managed by Virgin on the East Coast Route.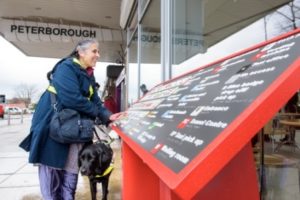 Tactile Rail Maps
The maps give information on the location of platforms, toilets, shops and cafes with large print, braille and tactile symbols. They are placed at station entrances, serving the nearly two million individuals in the UK who are sight-impaired. This number is expected to double by 2050. The initiative caters to people who previously felt that they were unable to use trains as much as they would have liked.
Kawal Gucukoglu, RNIB Transcription Executive, said:
"I like the fact it's a map for everyone – there's not a separate one for people with and without sight loss. It's very clear to use with good braille and print lettering. Tactile maps are a great idea and will come in useful for loads of travellers."
Neil Heslop, Managing Director, RNIB Solutions, said:
"We're pleased to have worked with Virgin Trains in finding an effective solution to make the stations they manage more accessible for people living with sight loss. We will continue to work with industry to look at other ways in which people living with sight loss can travel with greater confidence and independence."
Debbie Ambler, Virgin Trains Programme Delivery Manager, said:
"We are committed to working with partners like RNIB to find new ways to make journeys more accessible and enjoyable for all our customers. The tactile maps at stations across our network allow blind and partially sighted customers freedom and independence when travelling. Both at stations and on board our trains, we encourage our people to go the extra mile to offer brilliant service to all our customers. We also have a dedicated team that disabled customers and their friends and family can contact in advance to plan for their journey."