Perth: Forrestfield-Airport Link Contractor Announced
The Government of Western Australia has announced that the contract to design, build and maintain the Forrestfield-Airport Link (Perth Airport) will go to a joint venture of Salini Impregilo of Italy and Australian company NRW Pty Ltd (SINRW). The announcement follows negotiations which have been ongoing since February 2016.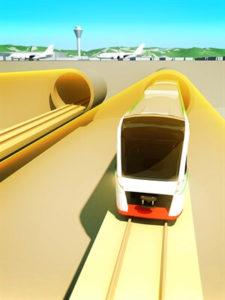 The Salini Impregilo-NRW joint venture was selected from a shortlist of three, the two other companies were Forrestfield Connect (a consortium of ACCIONA Infrastructure, BAM International and Ferrovial Agroman) and JHL JV, comprising John Holland and Leighton Contractors.
Forrestfield-Airport Link Contractor
The contract, worth $1.176 billion (AUS), sets out the delivery of the main package of works on the line in Perth's eastern foothills. Premier of Western Australia Colin Barnett announced that $490 million of the contract would be financed by the Australian Government to the State.
Premier Colin Barnett said:
"SINRW are contracted to build the eight kilometres of rail tunnels and three stations for the Forrestfield Line, as well as maintenance of the tunnel and civil structures for 10 years after completion.

"This is a huge milestone on the path to delivering this project, which will change the face of Perth's eastern corridor and give people direct access to the airport by public transport.

"It's the biggest expansion of the city's rail system since the Mandurah rail line was completed."
Western Australia's Minister for Transport Dean Nalder commented that the preliminary works, worth $370 million, were already underway. These works include geotechnical work, contract management and land purchases.
Transport Minister Dean Nalder, said:
"Various forward works have been underway at Forrestfield since November 2015 and I expect the joint venture to mobilise on site in the coming months.  The project's direct employment is expected to peak at about 600 workers."
Already, two stations on the Forrestfield-Airport Link line have been renamed – Belmont (previously Airport West) and Airport Central (previously Consolidated Airport) – to clarify their purpose and geography.
The line will include an underground tunnel from a junction near Bayswater Station, beneath the Swan River and the airport and on to Forrestfield. The line is expected to operate passenger services in 2020.