First UK Traffic Management Contract Awarded to Hitachi Rail
Hitachi Rail Europe (HRE) have been awarded the Thameslink contract for Traffic Management, the first UK traffic management contract, in partnership with Network Rail. The contract was signed as part of a ceremonial event held at Hitachi's Global Headquarters in London.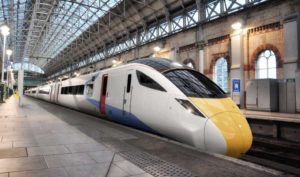 The contract is for Hitachi Rail Europe to supply Network Rail with the Traffic Management solution, with the option for the South East and London North Eastern programme. This will provide the framework for a blue print to support fully digital railway.
Hitachi Rail Traffic Management Solutions
The work is to manage the ever growing number of passengers on the rail network, the Traffic Management system Hitachi Rail will be supplying can be reconfigured to be more flexible. Hitachi Rail's system will manage and control the running of the railway and will support the rapid recovery of operations in the event of a delay.
Hitachi Rail was chosen to provide these systems as they have proven to be technically capable and have the expertise to ensure reliable railway operations in Great Britain. Network Rail will work closely with Hitachi to ensure that the systems are deployed successfully.
Karen Boswell, Managing Director of Hitachi Rail Europe, said: This is a fantastic achievement for Hitachi Rail in the UK, following on the back of the Class 395 (Javelin) high speed trains in 2009, the InterCity Express Programme (IEP) contract in July 2012 and Abellios ScotRail contract signed in March this year.
Hitachi Rail is determined to strengthen its railway-related business in the UK and I look forward to working with Network Rail to deploy our proven Traffic Management System, which will bring significant benefits to rail commuters.
Hitachi Rail and Network Rail on Thameslink Programme
Claire Perry, Rail Minister, added: We are investing in the Thameslink Programme because it will transform rail travel for customers in London and the south east, providing more seats and quicker journeys. It will also create thousands of jobs, making it a vital part of our long-term economic plan.
Todays announcement isnt just about new technology, its a key way to improve customer journeys, by increasing reliability and making sure they have the right information at the right time. We have seen huge growth in the number of people travelling by train and this investment will play a key role in keeping those customers moving safely, reliably and comfortably.