Texat decor engineering AG (Tde) is a Swiss-based provider of interior solutions for the transport sector.
It offers a wide range of bespoke shading solutions and floor coverings for the rail industry, including entrance dust mats, and many of its products can be found today in operational rolling stock across Europe, the Middle East and America.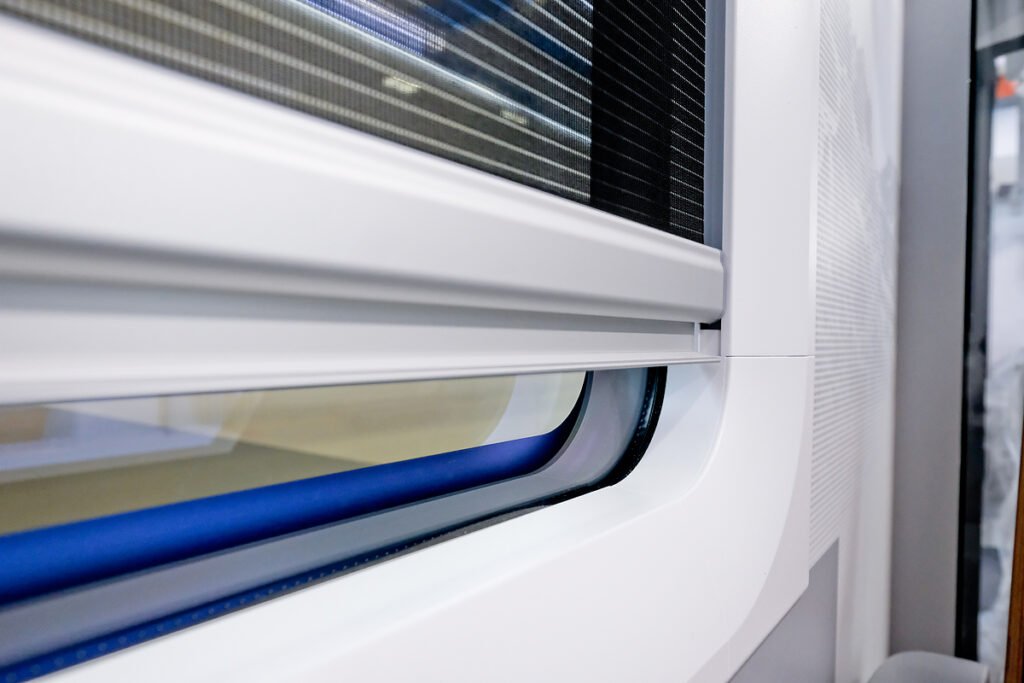 The company is particularly well known for its ability to provide customised roller blind solutions developed using different aluminium-pressed profiles, fabrics and fastening elements.
"We don't offer a product catalogue as our philosophy is that it's better to adapt our roller blind's fixing points to the customer's requirements rather than adapt the customer's situation to meet the fixing specifications of our roller blinds."
Instead, the customer provides details of the vehicle's design, their technical requirements and, if possible, 3D data, which Tde uses to develop an initial solution proposal.
The Texat Decor Engineering AG Cable-Guided Roller Blind
Tde offers a range of seven different roller types, which can then be customised to meet the specific shading requirements of each customer.
The latest model to be added to this range is the cable-guided roller blind, which can be used in passenger areas, drivers' cabs, sleeping compartments (with blackout fabric), dining cars and even as a partition for kitchen and bar areas.
The company launched this roller type in 2017 and it continues to enjoy great popularity, with customised Tde cable-guided roller blinds currently in place on trains manufactured by Stadler Rail, Alstom and Siemens.
This is because the width of Tde's cable-guided roller blind can vary from 50-2500mm, and it can follow the vehicle's contours, including curved windows like those often found on the upper floor of double-deck vehicles.
Shading without lateral light incidence, no protrusion of the fabric over the sidewall, no restriction of passengers' shoulder room and easy operation of the roller blind in any position are further features of this latest solution.
Furthermore, the blinds offer a wide range of adjustment options including pull-out force, fabric tension and parallelism, which makes it impossible to tilt or jam the handle strip and therefore impair operation.
Simple and Swift Assembly
A key benefit of a Tde cable-guided roller blind is its very short assembly time.
"Whenever possible we aim to deliver ready-to-install and preset cable roller blinds to our customers. If we're involved in an early stage of the design, we can develop our customer-specific solution so that when it comes to installation at the customer's site, they only have to screw the completed roller blink to the attachment points provided. Then the blind is ready for use."
Understandably the customer may have to readjust the cable due to torsion or twisting of the side wall during final installation in the car body. In case of these scenarios, Tde always provides the customer with bespoke assembly and installation instructions in their chosen language.
Get In Touch
Tde continues to receive positive feedback from major rolling stock manufacturers that chose its cable-guided roller blind solutions.
Thousands of these blinds have already been installed, and the company continues to receive enquiries from manufacturers working on key future national and international rail projects.
Tde is happy to discuss its solutions with interested parties in the rail sector. To find out more about how Tde could support your rolling stock shading needs, please contact Christoph Zürni (contact details below) or visit www.tde.ch.
Christoph Zürni
Managing Director, Sales and Marketing
Texat decor engineering AG
Stationsstrasse 59
CH-8606 Nänikon
Switzerland
+41 44 310 20 70
[email protected]
This content was provided by Texat decor engineering AG.