intreXis has developed a new 500 W DC-DC Converter with Power Boost function.
The Power Boost has many advantages:
Sources up to 40 A twice the nominal output current during startup: satisfies high peak current absorption of demanding loads during startup.
Sources up to twice the nominal output current during a short-circuit event: trips circuit breakers reliably.
Sources 1.5 times the nominal output power (750 W) for peak-loads up to 100 ms.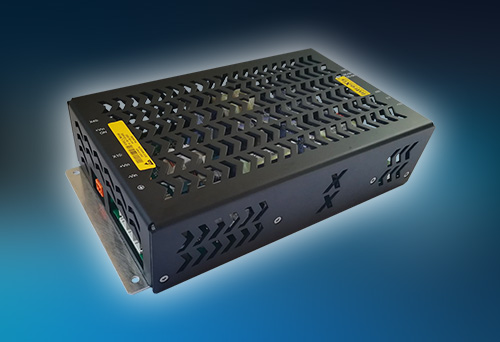 In railway-applications, a DC/DC-converter has to frequently power various load-branches. These load branches are often individually protected with circuit breakers, to isolate them selectively in case of a fault. In case of such a fault (short-circuit), the intreXis DC/DC-converter will source enough current to trip the circuit breaker fast and reliably.
As a result of the extremely high efficiency of >96 % (@ 110 Vin, 500 W) the IC303 500 W-converter is very compact and weighs only 1.37 kg.
All DC/DC-converters of the intreXis Boardnet Converter Platform provide the ultra-wide input voltage range which allows the use of these DC-DC Converters in railway applications with all nominal input voltages (24 V, 36 V, 48 V, 72 V, 110 V) without changing the configuration.