Deutsche Bahn Singles Out its Best Suppliers
Deutsche Bahn presented its seventh Suppliers' Award in Berlin at InnoTrans 2016, the leading international trade fair for transport technology. The DB Supplier Innovation Award, which singles out outstanding innovative products and services, was presented for the first time.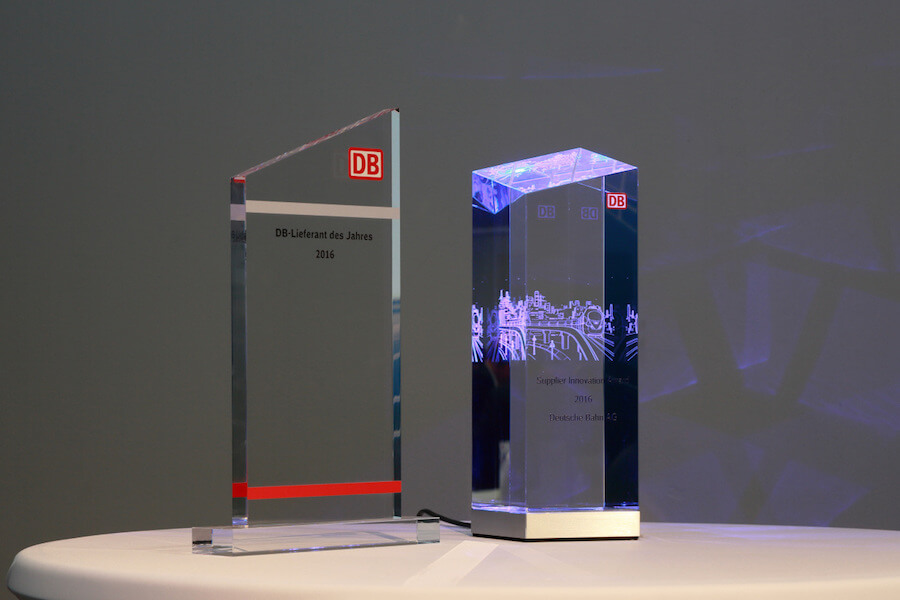 The winners received their awards from Dr. Rüdiger Grube, Chairman of the Management Board and CEO of DB, Dr. Richard Lutz, DB Board Member for Finance and Controlling, Berthold Huber, DB Board Member for Traffic and Transport, Frank Sennhenn, Chairman of the Management Board and CEO of DB Netz AG, and Uwe Günther, DB Chief Procurement Officer (CPO), during the ceremony.
Dr. Rüdiger Grube said:
"Reliability and innovative capacity of our partner companies are decisive factors in ensuring the quality of our services is right for our customers and making rail even more competitive."
With the corporate award, DB singles out highly committed, high-performing suppliers that have beaten the competition in the market segment and have fulfilled their contractual obligations in exemplary fashion. With their products and services, the award-winning companies have made an important contribution to implementing the ambitious DB2020+ Group strategy.
Uwe Günther, the Group CPO, stressed:
"The DB Suppliers' Award and the Supplier Innovation Award reflect the high regard in which DB holds its suppliers."
DB is one of the largest customers on the German market with an annual purchasing volume of more than 20 billion euros and maintains business relationships with over 30,000 suppliers worldwide.
The winner of the Supplier Innovation Award 2016:
Siemens AG, Mobility Division
The award was for the overall ICE 4 project, which combines a host of innovative technologies. These include flexible train configuration using the innovative powercar drive concept and interior fittings that optimize usable space. Other innovative characteristics of the ICE 4 include lower car weight, more seats and the new ETCS train protection system.
The jury also singled out the resource and energy efficiency of the new train's construction. New internally-supported bogies and the aerodynamic exterior design reduce energy consumption on the ICE 4 per seat by 22 percent compared with a modernized ICE 1.
The winners of the DB Suppliers' Award 2016:
General Requirements and Services Category:
Ferdinand Gross GmbH & Co. KG
Since 2012, the company has been DB's sole supplier for connectors of all kinds such as screws, studs and plain washers, reliably providing DB with over 22,000 parts. The rapid availability of these parts in sufficient quantities is crucially important for DB Heavy Maintenance, among others.
To this end the supplier has included binding provisions concerning DB's quality requirements in agreements with all its suppliers and can respond flexibly when new requirements emerge. Furthermore, Ferdinand Gross has rolled out an innovative system that optimizes the service for production-controlled material consumption for around 120 production warehouses and the company has itself pushed forward innovations in this area.
Rail Vehicles and Rail Vehicle Parts Category:
ALSTOM Transport Deutschland GmbH
With its Diesel Network South-West project for regional and local rail passenger transport in Rhineland-Palatinate and Saarland, ALSTOM successfully delivered 38 LINT 41 and LINT 54 type diesel multiple units with virtually zero defects and on time for entry into service in December 2015. The rail manufacturer's responsible management team adopted end-to-end transparency for production. DB was able to check production progress at any time. The jury singled out the strong signal ALSTOM sent to the industry with the punctual delivery of the vehicles, following the problems of the past few years in the regional and local rail passenger transport segment.
Infrastructure Category:
Shenzhen SED Wireless Communication Technology Co., Ltd.
Since 2012 the Chinese company has been a DB supplier for mobile devices (cell phones), which are used as part of the DB-internal GSM-R (Global System for Mobile Communications-Rail) mobile network. The devices boast high quality combined with extensive services from SED Wireless. For instance, the company offers DB German-speaking service locally, extended warranty services and a simple replacement pool for devices. The company also stood out with its in-house development of a dual-SIM smartphone, which met DB's extensive specifications. The smartphone can be used both for safety-critical GSM-R radio and for the public mobile network.
Please click here for original article.