CRRC Debuts New Generation of Driverless Monorail Trains
On February 01, Chinese rolling stock manufacturer CRRC introduced a new generation of driverless monorail trains that increase passenger capacity whilst saving on operating costs.
The new generation straddle-type monorail trains are based on more than 10 years of operational experience and research data, using the latest scientific and technological achievements in fully automated driving, permanent magnet traction, and cold and snow resistance. It has a larger passenger capacity, and at the same time weighs less, saves energy, and reduces engineering and operating costs.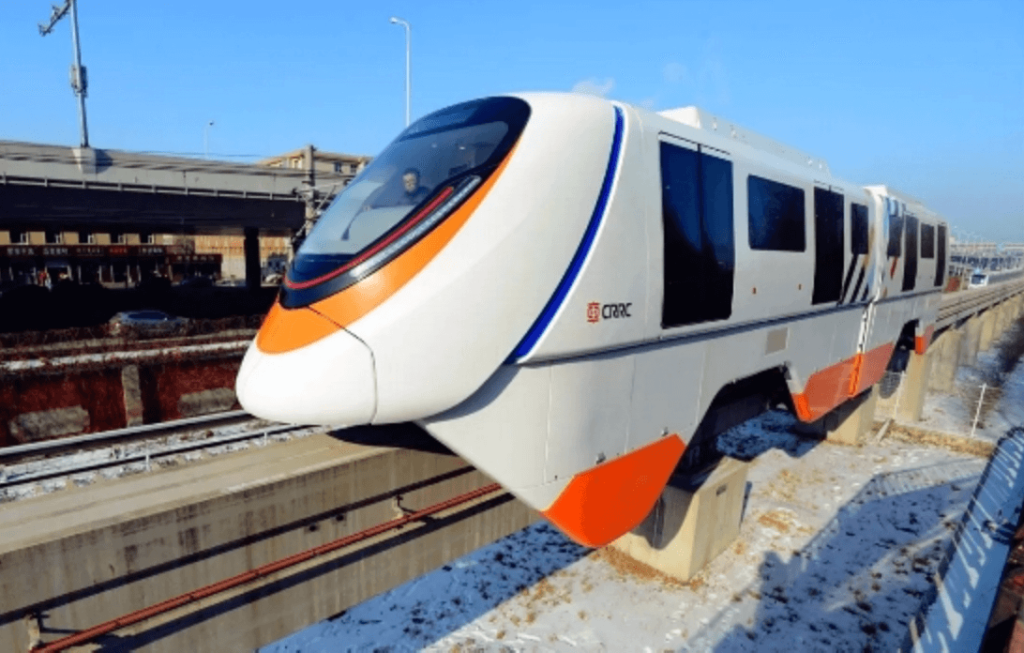 New Generation of Monorail Trains
The new generation driverless monorail trains include large, small and medium sized models for operation. Depending on passenger flow, they can be flexibly grouped. The maximum capacity of a 4-car train unit is 962, 792 and 552, respectively. The train body has a large curved, streamlined surface coupled with modern colour painting, giving passengers a sense of speed and the times. The use of a more sophisticated biaxial bogie and air spring suspension system has solved the technical problems with the stability and comfort of monorail vehicles and improved passenger experience. At the same time, all the running gears are arranged beneath the floor, and as a result they cannot be seen in the car, making the interior more spacious and transparent.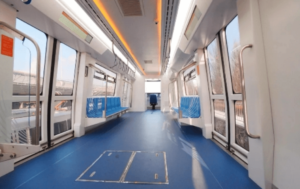 Adaptable and Stable
Safety and stability are top priorities for urban traffic managers. Since the production of the first straddle-type monorail train at CRRC Changchun Railway Vehicles Co., Ltd in 2004, the 770 monorail trains it has manufactured deliver a daily average passenger capacity of 1.3 million. During the operation, technicians have accumulated a large amount of operational data and train maintenance experience. They solved various technical problems that might arise due to different geographical environments and road conditions, and have perfected and innovated on the basis of this, making the trains especially adaptable and stable.
Fully-Automated Driving Technology
The train adopts fully-automated driving technology to provide optimal traction and braking curve and operation plan through an automated network control system, so as to shorten the departure interval and improve operation efficiency. The train's power system uses a permanent magnet traction motor with a light weight, a small size, high efficiency, less maintenance and other features. To ensure safety, the train is equipped with emergency battery traction. When the power supply equipment fails, the train can use the battery to pull the vehicle to the nearest station, where passengers are transferred. At the same time, there are a variety of reliable rescue methods that can provide technical support for the safety of the monorail vehicle.
Cold and Snow Resistance
To cope with cold weather, the train is equipped with the core technology developed for train units running in extremely cold environments, providing professional and perfect solutions for cold areas to ensure the normal start-up and operation of the vehicle in temperatures as low as -40℃. Through collaboration, we developed a specialised vehicle for breaking ice and clearing away snow.
Original article © CRRC.
FOR ALL THE LATEST INFORMATION, NEWS, IMAGES, VIDEOS AND ARTICLES ON ALL ASPECTS OF ROLLING STOCK, PLEASE CLICK HERE.