The contract for the construction of the Rail Baltica station and associated infrastructure at Riga International Airport has been signed.
Construction will begin in May 2021. The winner of the international tender is the consortium B.S.L. Infra, comprising Austrian company Swietelsky AG and Latvian construction companies as well as road construction firm SIA Binders and AS LNK Industries.
The construction works will take place in five phases and are scheduled for completion by December 2025. Phase 1 will see the construction of Rail Baltica railway infrastructure from Imanta station to Riga International Airport and the construction of the station terminal. These works are due to be completed by March / April 2023. The contract is worth almost 237 million euros (excl. VAT).
"Implementation of large infrastructure projects has significant added value. The signing of the construction contract is a positive signal to stimulate the economy, creating hundreds of new jobs over the next five years and boosting national GDP growth."
Stage 1
During the initial phase of this contract, the consortium will build a three-level station building, overpass structures and access roads with related infrastructure. There will be easy access between the station and the airport complex on the ground floor. The site will feature new access roads, car and bicycle parking, EV charging points, stairs, lifts and escalators. Passengers will be able to enjoy a green corridor to access the terminal building – this corridor is accessible to all passengers, regardless of whether they arrive by public transport, bicycle or car.
The first floor will house a lounge area and waiting rooms for passengers, along with ticket vending machines, ticket offices and information stands.
On the second floor there will be a stop for the high-speed train and shuttle from Riga's city centre.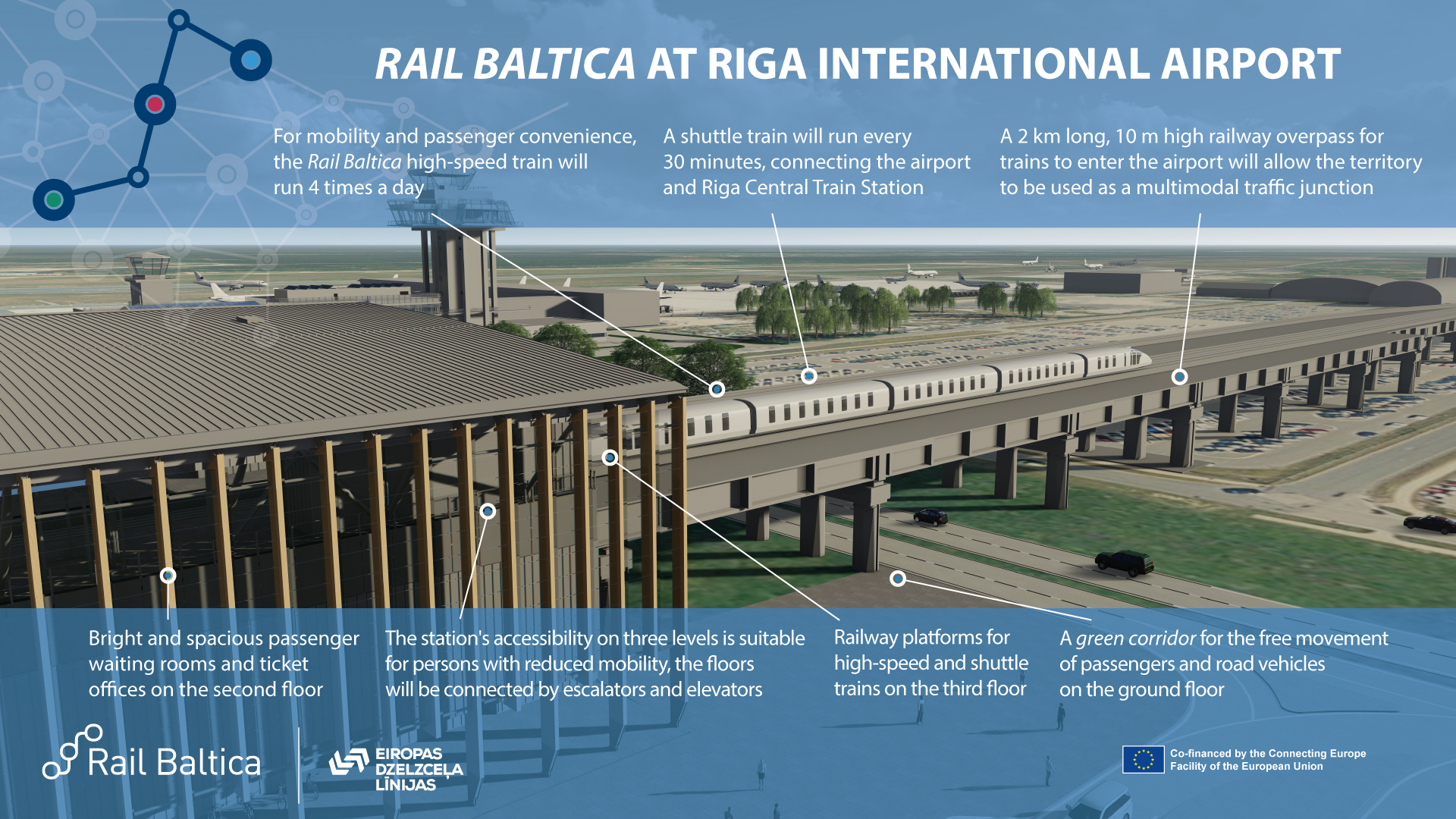 Subsequent Stages
During the next phases of the project the consortium will construct the facade of the station building. The design incorporates the traditions of using wood in Latvian architecture. Therefore, wood will be the main aesthetic element for the facade. This stage also includes mechanical systems and the interior decoration.
Then, the overpass between Riga and Jaunmarupe will be built. As a space-saving measure, the Rail Baltica tracks and the station itself will be situated on the railway overpass, which will have a height of 10m. Nothing like this exists yet in Latvia. An embankment and a 113m railway crossing over K. Ulmana gatve will be built.
Final Stage
The track will be laid during the final stage. The plan is to construct two tracks, allowing there to be four daily high-speed connections to Riga International Airport as well as a shuttle service every half an hour between the airport and Riga Central Station. The travel time between the airport and central Riga will be just eight minutes.
"Construction of the second-most important section of Rail Baltica now will begin in Latvia. The construction of both Rail Baltica international stations and regional stations along with the associated infrastructure will be the largest constructions in the coming years, creating hundreds of jobs. As a result of the construction of this project, in five years' time our residents will have a modern and multifunctional traffic hub, which will be connected to the new passenger terminal at the airport. Mobility and convenience for passengers will be created – tracks, all systems and structures will be fully integrated into the existing airport infrastructure. In addition, the construction of the new infrastructure will provide an opportunity to expand cargo handling services, as it will be possible to establish a freight rail branch connection to the airport. This will strengthen Latvia's status as an international destination and transit country. This construction project is large, complex and quite difficult. 32 institutions are being involved in the preparation works and much of the work is done in the challenging conditions created by the pandemic."