CRRC Rolls Out Prototype Suspended Monorail Train
CRRC Qingdao Sifang, a subsidiary of CRRC, recently rolled out a prototype of its suspended monorail train. The Chinese rolling stock manufacturer has said that the maximum speed of the train is 70 km/h, the fastest of its kind in China.
Driven by a high-efficiency magnet motor, the experimental train runs along an overhead monorail.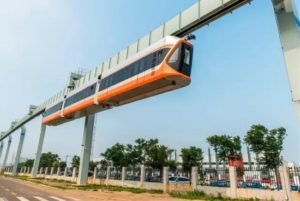 Suspended Monorail Train
The train can be composed of three or five cars, with a passenger transport capacity of 300 to 510 people, respectively.
The train has a strong climbing ability with a maximum incline in an altitude of up to 100 meters, over a length of 1,000 meters. The monorail system is suited for passenger transport in more scenic areas, mountainous regions and urban areas where road traffic is heavy.
Hancheng Monorail System
CRRC Sifang based in Qingdao city, Shandong province, East China, is undertaking China's first suspended monorail project in Hancheng city, Northwest Shaanxi province. The construction of the line designed to stretch 55 km began in November last year.
The line, which runs in a south-north direction through the city, links with the city's airport and threads through a number of scenic and historical sites along the city.
Original article © CRRC.
FOR ALL THE LATEST INFORMATION, NEWS, IMAGES, VIDEOS AND ARTICLES ON ALL ASPECTS OF ROLLING STOCK, PLEASE CLICK HERE.