Case Study: Fully Automatic Manufacturing Cell for Turning, Drilling and Milling of Railroad Wheels, in Two Setups for a Customer in China
This particular customer chose the HESSAPP solution, because the wheels are used for high-speed trains and therefore the finishing of the workpieces requires a very high quality.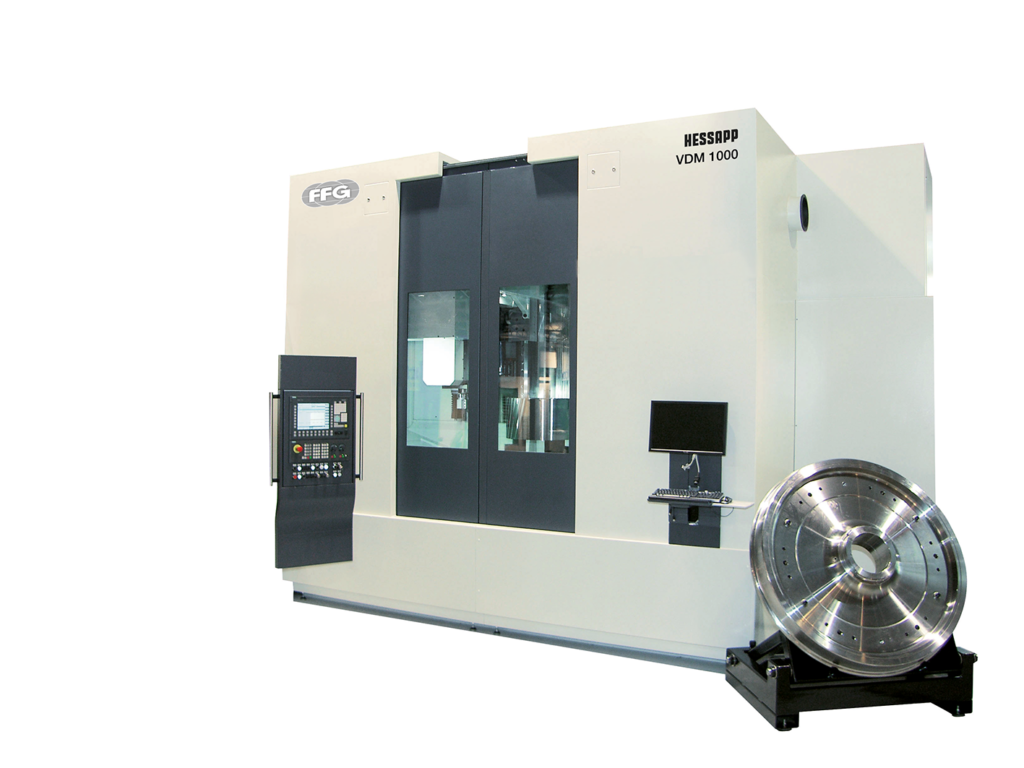 The cell consists of two HESSAPP vertical lathes of the type VDM 1400-12. This machine type is an addition to the VDM series, which is very successfully represented on the market.
The system is loaded via a surface gantry from Güdel.
Each of the two VDM 1400-12 machines is equipped with two compound slides. A B-axis is mounted on one of the compound slides to produce the  oil push-off hole. The other is equipped with a fixed carrier for turning.
The machines are each equipped with two 24-cavity tool magazines for holding the modular tools required for the machining of the railroad wheels.
The cell is designed so that two wheel types can be produced at the same time or one wheel type per machine can be produced in batches. In addition, each machine can be operated individually. The entire cell is equipped with the necessary safety equipment for raw and finished part supply. The railroad wheels can be fed to each workpiece supply zone without interrupting the gantry in automatic mode.
Both operations of the wheels are processed in one machine (reversing clamping). The unmachined parts are taken from the staging pile and stack and deposited on the blank deposit in front of the machines, which is bar-code reading station in front of the machines.
After the first operation is completed, the wheel is unloaded from the gantry and turned 180°. As soon as one of the two machines has completed the second operation, the gantry removes the part and places it on the table in front of the machine to optimise the loading time. The gantry then picks up a blank again from the barcode reading station in front of the machine and loads the machine again.
A chip shredder is located under each machine to shred and transport away the flowing chips produced during machining. Via a coolant unit, the filtered coolant is supplied to the cutting process with sufficient quantity and pressure.
For checking the workpiece quality, a manual measuring station is located between the machines.
As a specialist for vertical lathes HESSAPP has been developing customer-specific solutions for 75 years.
Production cells for the machining of railroad wheels are used by customers worldwide and have continuously proven themselves with the highest process reliability.
This article was originally published by FFG Werke GmbH.