For more than 45 years Calenberg Ingenieure has been dedicated to the refinement of building construction.
The product range comprises special elastomer materials for special fields of application in sound and vibration insulation and reduction. Calenberg expertise reduces the risk of building damage thereby reducing maintenance costs, improves the living quality and protects against environmental effects such as traffic noise, vibration and impact sound. All activities of Calenberg Ingenieure are scientifically based and the physical measured values and data of the products are approved by official and independent institutes.
The demand for a higher standard of living quality today is not only defined in material values, but also as a sense of well being, regard for fellow man and maintaining traditional values. Today, homes and the work places are more affected by noise pollution than ever before. As a worldwide recognised authority in the field of vibration technology and noise reduction/protection Calenberg Ingenieure offer standard and 'tailor made' solutions for the improvement of living quality.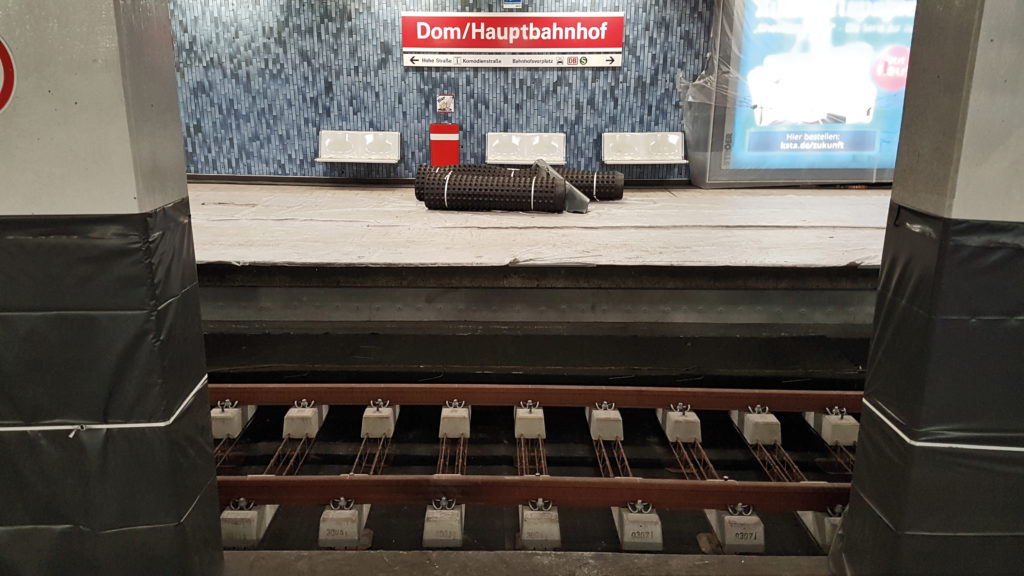 Constant research and development, over 45 years of experience and certified quality management is the reason for choosing Calenberg Ingenieure for successful projects at home and abroad.
The application of Calenberg products in the field of static load bearings is especially effective where rigid building parts are put in contact with each other and the materials are exposed to high compression stress. To protect buildings against damage, elastomeric bearings are installed in between such parts.
Calenberg Ingenieure radically improved the typical characteristics of elastomers by developing special bearing designs and profiling to the bearing surfaces. Dynamic bearings from the product range of Calenberg Ingenieure should always be used where vibration and sounds are affecting the building. This vibration and structure-borne noise pollution is caused by traffic, machines, human activity and plant installation in buildings. It can lead to stress and related complaints to health of occupants. Specially designed high-performance bearings of Calenberg Ingenieure provide effective relief.
Vibrations are perceptible oscillations that are not only disturbing to human beings but may also lead to disturbance and damage to apparatus and other installations in buildings. Structure-borne sounds can radiate in a building as secondary airborne sound and can considerably influence the well being of human beings.
Rail traffic causes airborne noise as well as vibrations or structure-borne sound. Residential and commercial locations are normally the sufferers of these emissions. Calenberg Ingenieure use elastomeric products for their rail track program. They are produced from high grade natural and synthetic rubbers. Due to the different variants within the product range, individual solutions for nearly every vibration and noise problem can be offered.
Why Are There Vibrations on the Track?
Wheels are noncircular, eccentric, unbalanced and have flat areas. The rail track is not perfectly straight or even due to the construction method and due to subsoil conditions. The track which has integrated vibration control offers an effective relief. At this point an elastomeric track mat or under ballast mat can be an important part e.g. of a floating slab track or mass spring system. It also has the big advantage of increasing the durability of the track system, which reduces the maintenance costs of the track as well as of the rolling stock.
Micro cellular elastic EPDM rail pads and base plate pads are both important resilient parts of rail fastening systems. Rail pads are installed directly under the rail foot to increase the elasticity of the ballast track. This brings about a more comfortable ride and protects the permanent way, from standard gauge railway to tram way as well as in varying dimensions. The elasticity to slab track systems is brought about by high elastic micro cellular EPDM base plate pads installed between rib plate and concrete slab, reducing vibrations caused by track and wheel unevenness.
Special Product for Noise Protection
Increased environmental consciousness and the knowledge of adverse health effects caused by airborne noise pollution demand effective counter measures. With their lightweight and flexible Cisilent® noise barrier Calenberg Ingenieure offer a convincing solution for indoor and outdoor use where spatial and weight restrictions do not permit any other possibility. Whether as mineral wool filled curtain for use in production plants or or mobile applications such as inner-city construction sites. In both cases, a high noise reduction will be achieved.
The flexible Cisilent® noise barrier improves the well being and the fitness by noise reduction. Immediately after installation, Cisilent® offers sound protection everywhere where you need it: on busy highways, stadiums, railroad shunting yards, inner-city construction sites, airports, open-air-concerts and indoors for example to protect offices from noisy production processes.
Special Product for Environmental Protection
The OIL-EX® Absorption Mat binds harmful substances such as oil or other hydrocarbons within its top layer. On the reverse side an impermeable sealing layer ensures that earth and ground water are not contaminated by e.g. parking rail or road vehicles with oil leakages. And because the OIL-EX® mat is mainly made of recycled material, it is eco-friendly in two ways.