The CAF Group has secured tram supply extension contracts in Belgium and Australia, worth a combined value of nearly 100m euros (119.05m USD), in addition to a new signalling installation contract in Turkey.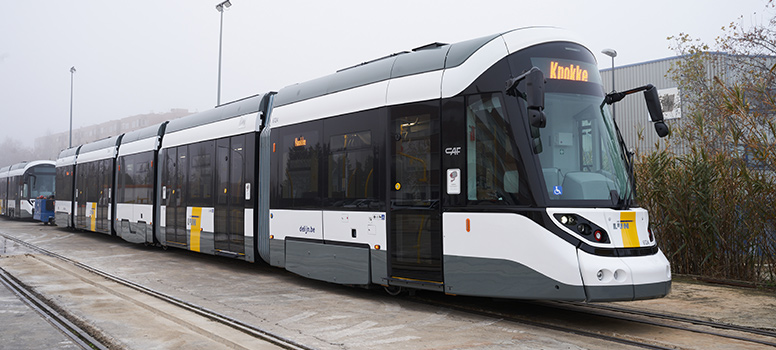 In Belgium, De Lijn has approved the purchase of a further 18 trams. This will be the fifth batch relating to a contract signed in 2017 for the manufacturing and supply of up to 146 trams, distributed in batches on the customer's request. The first four batches were for 24, 24, 23 and 17 units respectively. The 18 new trains are different to the previous batches in that they will be bi-directional.
The first 48 units operate on the Belgian coastline, while the third, fourth and the current fifth batch will run in Antwerp.
Concurrently, Transport for New South Wales (TfNSW) has awarded CAF the supply of four Urbos 100 LRV 5-module units for its Inner West Light Rail Line in Sydney, as well as all the relevant spare parts.
These new 32m long, 5-module articulated units will be delivered in early 2023 and will be added to the existing fleet made up of 12 CAF Urbos units that have been running on the line since 2014.
With this new contract, TfNSW renews its trust in CAF, having previously awarded it the Parramatta Light Rail projects at the end of 2018 and the Regional Rail Project at the beginning of 2019.
CAF Signalling has also announced a new contract, having been selected by JV Salini Kolin to install the signalling system for a section of the European Union's Trans-European Transport Network (TEN-T) in Turkey. The work is for the section which runs between Çerkezköy and Kapikule on the line connecting Halkaki station in Istanbul to Kapikule station.
This 153km long section forms part of the high-speed line between Istanbul and the Bulgarian border, connecting the metropolitan area of the Turkish city with the Turkish-Bulgarian border with a double track that will replace the current single track.
CAF will install electronic interlocking technology and a new centralised traffic control (CTC) with the latest signalling systems compatible with the Level 1 European Train Control System (ERTMS), on a line where trains will reach speeds of up to 200 km/h.