A Bogie Weighing System for Future High-Speed Trains
Weighwell have recently supplied and commissioned a PTW Bogie Weighing System for AnsaldoBreda (Leonardo group) in Naples.
Weighwell have a longstanding relationship with AnsaldoBreda having previously supplied Static Train Weighing Systems in Italy, Brazil, the Netherlands and the USA as far back as 2009.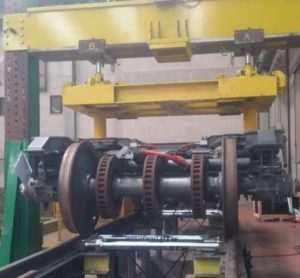 The Reason for Bogie Weighing?
The flexible and highly accurate nature of the rail scale allows the weighing of individual bogies. The benefit of providing a rail scale under each wheel is that the hydraulic cylinders of the bogie press can evenly distribute the load within set parameters (tolerances). The portable weighing system can also be moved to accommodate different wheel centres and allow continuous production. Furthermore the Bogie Weighing System provides AnsaldoBreda a cost effective solution for future rolling stock projects.
The bogies (originally part of the V250 trainsets) will be used on future high-speed trains for Trenitalia. The high speed rolling stock is currently going through various technical modifications and tests with a select number of trainsets (to be known as the ETR 700) set to enter service later this year. The 17 overhauled trainsets are to be primarily used for regional and intercity services.
In order to understand the bogie wheel loads our in-depth ptwX software was provided. The ptwX software communicates with the weighing system through wireless technology and automatically outputs the weighing information via PDF or .csv file formats. In addition the train weighing software provides customisable options suited to specific maintenance programs such as "live" tolerance information (to indicate several error conditions), the ability to select different weighing units and view previous weighing reports.
Paul Horsfall, inventor of the Portable Train Weigher (PTW) commented:
"We have a significant relationship with AnsaldoBreda who have experienced our industry leading train weighing systems and software for a number of years. The recent installation in Italy was ideally catered towards their specific requirements and met their challenging deadline (manufactured, installed and commissioned within 4 weeks)"
For further information on our portable train weighing systems please use the contact form or call us on +44 (0) 114 2699955.
Original press release credit: Weighwell
FOR ALL THE LATEST INFORMATION, NEWS, IMAGES, VIDEOS AND DOCUMENTS FROM WEIGHWELL, PLEASE CLICK HERE.