AusRAIL Plus 2015 Starts Tomorrow
The AusRAIL convention will be taking place this week from 24 to 26 November 2015 at the Melbourne Convention Centre in Melbourne. To book your tickets, click here.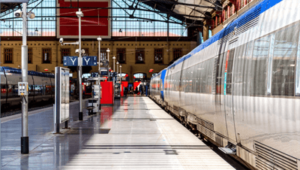 The convention is the largest of its kind in Australia, and is the premier event for anyone operating in the Australian rail sector. There will be more than 450 exhibitors and 7000 visitors to the exhibition, 900 delegates and 120 high-level speakers at the conference and a dozen networking functions including luncheons, gala dinners and drinks.
AusRAIL Exhibition
In alliance with the premier Australasian rail associations including ARA, RTAA, IRSE and RTSA, the exhibition promises to be a spectacular event. More than 450 exhibiting companies are booked to participate, and visitors are expected to see the best and brightest of the Australian rail industry.
The event will give exhibitors and visitors the opportunity to meet with senior executives within the industry over the three day event. Exhibitors will be able to raise their corporate profile, debut innovations and boost their brand. To view the floorplan, click here.
AusRail Conference
The conference will focus on the challenges facing the Australian rail industry. More than 120 senior-level speakers will participate in discussion and debate to come to a cohesive, long-term infrastructure pipeline for rail, under the theme of Doing it Smarter; People, Power, Performance.
The conference will be forward thinking in its approach, looking to enhance and improve upon current operations, looking at the use of technology, information technology and innovations which will carry Australias rail sector into a cohesive, cutting-edge industry for the 21st century.
The conference will also look at freight rail, passenger rail, commuter systems and also at European rail networks to learn from their experiences.
Speakers include industry representatives from Sydney Trains, KiwiRail, Metro Trains Melbourney, Keolis Downer, Trandev Australia, SCT Logistics, Public transport Authority of Western Australia, Australasian Railway Association, and market leaders Pacific National and Titan ICT. This is in addition to academic submissions from Queensland University of Technology, the University of Wollongong and the University of Twente.
Bombardier and UGL to Sponsor Networking Events
Bombardier and UGL are sponsoring a number of networking events in the evenings, as well as luncheons on each day of the conference so that rail executives can network and touch base with existing partners.
It promises to be an exciting, important event in the rail calendar.