Alstom to Deliver Third-Rail Electrification for Phase 2 of Bangalore Metro
Bangalore Metro Rail Corporation Ltd (BMRCL), a joint venture between India's federal government and the state government of Karnataka, has selected Alstom to deliver the power supply and traction electrification for Phase 2 of the Bangalore Metro extension project. The metro is also known as the Namma Metro and the Bengaluru Metro – Bengaluru being the official name of Karnataka's state capital.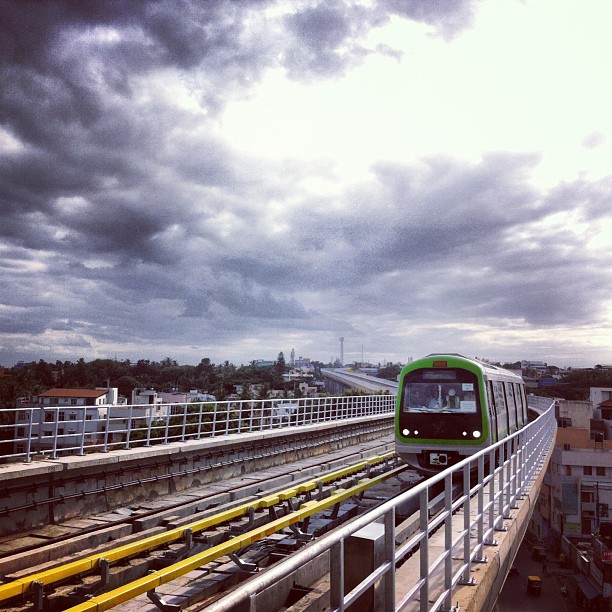 Namma Metro Overview
The Namma Metro first opened in 2011. It consists of two lines (Green and Purple) with an average daily ridership of 400,000. It is the fourth-longest operational metro in India. Phase 1 of the metro system opened in October 2011. June 2017 saw the completion of both lines of Phase 1.
Phase 2 is 72km in total, of which almost 14km will be underground and almost 58km will be elevated. Phase 2 involves extending both Phase 1 lines and constructing two new lines. This phase has an estimated completion date of 2023.
Alstom's Third-Rail Electrification Contract for Phase 2
Phase 2 includes a 33km extension to the rapid transit system. It is to be electrified via a third rail. The contract is worth 71 million euros (81 million USD). Alstom says this is its largest third-rail electrification contract in India.
The contract lists the following elements for the 750V DC third-rail traction electrification:
engineering
supply
installation
testing
commissioning
It also includes:
the construction of 30 33kV/415V auxiliary substations
26 33kV/750V DC traction substations
a 33kV cable distribution network along the viaduct
Alstom will integrate its works into the existing Phase 1 infrastructure. Alstom will perform the works in five phases. The first, a 6.5km stretch, has an estimated commissioning date of late 2019.
Alain Spohr, Alstom Managing Director, India & South Asia, said:
"Our significance of our relationship with BMRCL, going back to 2009, is underlined by the fact that Bangalore hosts one of Alstom's most significant sites. Alstom's footprint in systems and infrastructure is growing rapidly, and this project will give us an opportunity to extend our cutting-edge capabilities and solutions to our customer."

Ajay Seth, Managing Director of BMRCL, said:

"The new line, once commissioned, will bring in much needed flexibility in the network while significantly reducing vehicular traffic in the city. It will enable Bengalureans to traverse the length and breadth of the city hassle-free and also add positively to the environmental needs."
Alstom in Bangalore
In 2009 Alstom won the contract to supply its U200 signalling and telecommunications solution for 42km of Phase 1 of the Namma Metro. That makes this current contract Alstom's second in the city.