Alstom to Supply Citadis Trams for Kaohsiung Tramway Project
Alstom has been awarded a contract by China Steel Co. to supply 15 Citadis trams for Kaohsiung tramway project phase 2, which is expected to start revenue service in 2019. This tramway project is the first for Alstom in Taiwan and adds to recent Asia-Pacific successes notably in China and Australia.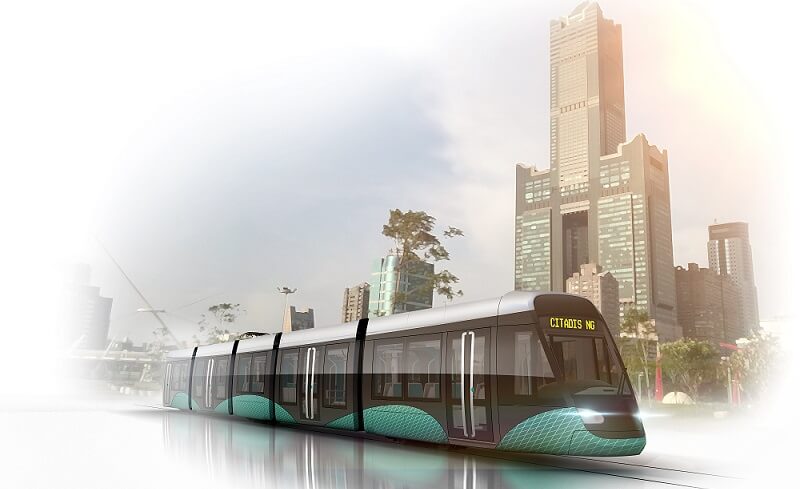 Kaohsiung Tramway Project
Phase 2 – which is 13.4km long and includes 23 stations – is part of the Kaohsiung tramway line which will be 22.1km long and include 37 stations. This new line will run all around the city and will be connected to two existing Mass Rapid Transit (MRT) lines: the Red and Orange.
Ling Fang, Managing Director of China & East Asia, Alstom, said:
"Alstom is proud to bring its leading tramway and infrastructure technologies to Taiwan. Once completed, the tramway line will provide a green transport solution to Kaohsiung residents and visitors who will be able to commute aboard a tram that is efficient, comfortable, and that blends perfectly into the cityscape"
Citadis X05
Alstom will provide Citadis X05 which is equipped with the latest technologies including permanent magnet motors to reduce energy consumption. Alstom will also equip the trams with its Citadis Ecopack, an on-board energy storage solution located on the roof which enables the tram to run without a catenary from a station to another. Citadis Ecopack enables the tram to be fully charged through the catenary when stopped at stations in 20 seconds.
The 15 Citadis X05 trams will be designed and manufactured by Alstom La Rochelle site in France. The other French sites involved are: Tarbes for the traction system equipment, Valenciennes for the interior design, Villeurbanne  for the on-board electronic systems and passenger information, Ornans for the permanent magnet motors, Le Creusot for the bogies, Vitrolles for the on-board power supply switching boxes Citadis Ecoswitch, and Aix en Provence for the safety control system related to Ecopack. Sesto in Italy is also involved for the traction system equipment.
Alstom Taiwan is providing the on-site testing, training and warranty services.
Alstom has been manufacturing trams for 18 years. 2,300 Citadis trams have been sold to more than 50 cities in 18 countries. Citadis X05, launched in 2014, has been ordered by Sydney in Australia, Nice, Avignon and Caen in France.
Please click here for the original article.