Alstom Delivers Ahead of Schedule the First Lucknow Metro Trainset
Alstom has delivered ahead of schedule the first Metropolis trainset to Lucknow Metro Rail Corporation (LMRC). On 01 December, 2016, the metro trainset – which will now enter into a trial phase – has been officially presented to the customer.
The event was held in the presence of Mr. Akhilesh Yadav, Hon'ble Chief Minister of Uttar Pradesh, Mr. Kumar Keshav, Managing Director of LMRC, Jean-Francois Beaudoin, Senior Vice President, Alstom Asia Pacific, and Bharat Salhotra, Managing Director, Alstom India & South Asia at the Lucknow Metro Phase-1A project.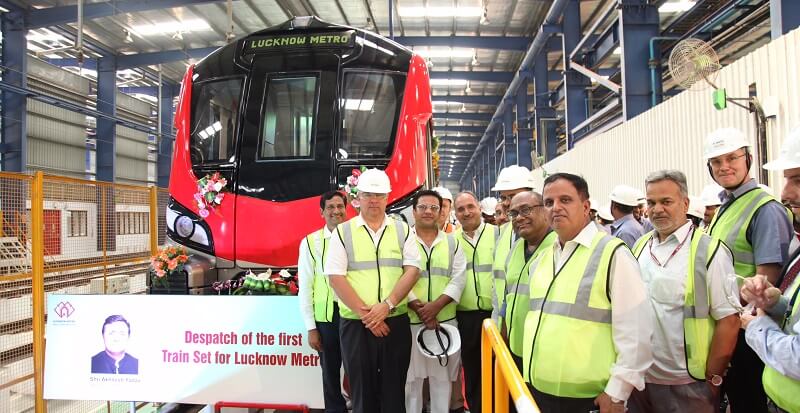 Earlier this year in May, Alstom and LMRC unveiled the design of the Metropolis trainset using a 3D technology in the presence of Mr. Akhilesh Yadav and senior government officials.
Bharat Salhotra, Managing Director, Alstom India & South Asia, said:
"The delivery of the first train set of Lucknow metro marks another major milestone for Alstom in India. The project re-affirms our strong commitment and endorsement to 'design and make in India' in line with the government's vision. Manufacturing for the first Metropolis trainset has been completed in record time and ahead of schedule. We are proud to be contributing to the transition to sustainable transport systems by designing and delivering innovative, environmentally friendly, efficient and appealing rail solutions"
Alstom was awarded a contract for about €156 million (INR 1069 crores) by LMRC to provide 20 metro trainsets each of four cars along with Computer Based Train Control (CBTC) based Signaling System for the city of Lucknow in the state of Uttar Pradesh.
The design of the train is a tribute to the city's cultural richness, with the front end conceived in the spirit of the gates to some of the city's most important monuments, including the Bara Imambara congregation hall, Asifi mosque and Rumi Darwaza gateway. The V-shape of the lower section of the front symbolises 'dynamism and rapidity', while the livery is both highly modern and very much inspired by the traditional cashmere craftsmanship of Lucknow.
The Metropolis trainset for Lucknow has 186 seats arranged longitudinally, and includes two dedicated zones for passengers with reduced mobility. The cars are being produced at Alstom's SriCity and Coimbatore plants in India. The Urbalis CBTC will be jointly supplied by Alstom's sites in Bangalore and Saint-Ouen in France.
For the original article, please click here.