In the midst of a busy year for Emeg, we caught up with Emeg Group President Carl Backhouse to hear about some of the company's past, prestigious successes as well as exciting, upcoming projects.
Railway-News (RN): You provide mechanical and electrical engineering services for the rail sector. Your headquarters are in Chesterfield and you are a Network Rail-designated Principal Contractor, but you do have an international office in Dubai. What are some of the international projects you have worked on?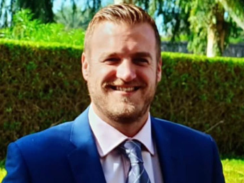 Carl Backhouse (CB): Emeg opened an international base of operations in the UAE (Dubai) early last year to better serve our rapidly growing customer base in the Middle East, Africa and the Far East. If you've ever had a stopover in Dubai, you'll know it isn't much more than 8 hours from anywhere in the world, so a permanent office there made a lot of sense.
From Dubai, Emeg Group, trading as Emeg Rail Systems LLC, is ideally placed to participate in some of the most ambitious rail engineering projects taking place in the UAE, Saudi Arabia and even further afield.
Recent international projects include the design and build of the main depot at Al Faya, the largest and most important O&M facility in the Etihad Rail network in Abu Dhabi. In fact, we've just shipped the first batch of e-fill™ units, our intelligent fluid mixing solution, from our Manufacturing & Distribution Centre in Chesterfield for installation at the Al Faya depot.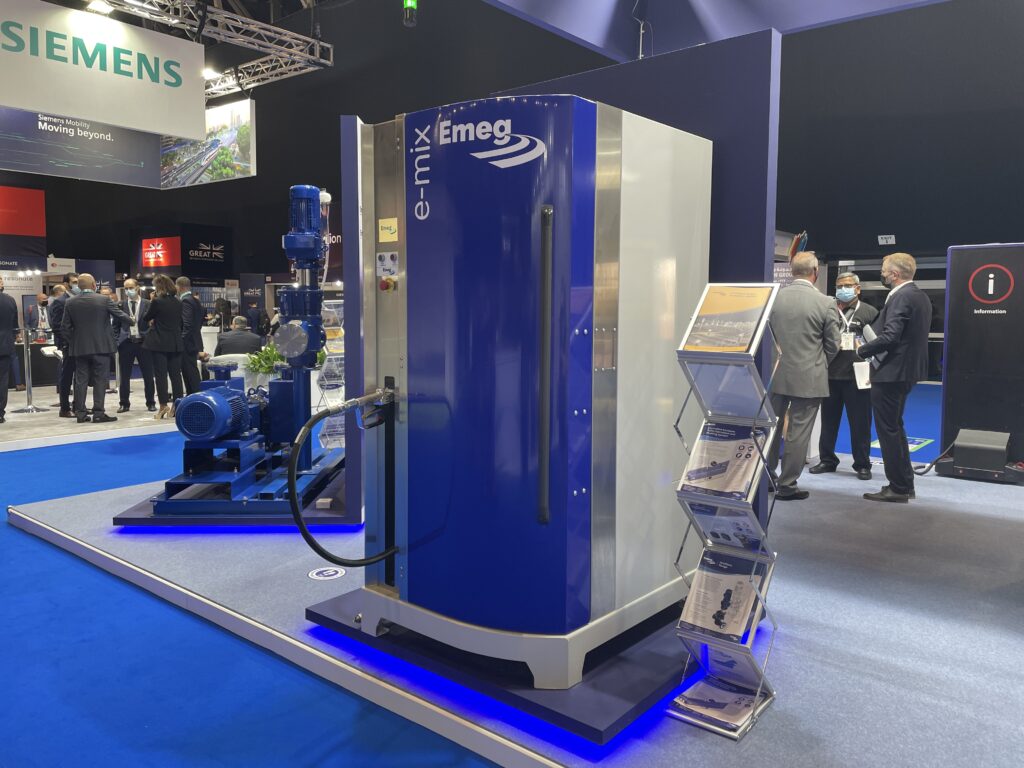 © Emeg Group
The huge, ongoing Etihad Rail project is the first national freight and passenger railway network connecting the seven emirates of the United Arab Emirates (UAE). In addition, the Gulf Cooperation Council (GCC) railway network will connect the UAE with Saudi Arabia, Qatar, Kuwait, Bahrain and Oman and is expected to be ready by 2024. It's a great honour for Emeg to be involved with such a high-profile and prestigious rail engineering project, which will bring so many benefits to the Middle East.
We're also working on a new project with Saudi Arabia Railways, namely, the Al Qurayyat depot in Saudi Arabia. We recently hosted a contingent from Saudi Arabia Railways and Meras on a visit to our Head Office and M&D Centre in Chesterfield. As well as showing them our on-site capabilities and introducing them to the UK project team, we took them out to see the local sights, including a visit to Chatsworth House, which they really enjoyed.
The Riyadh–Qurayyat 1,242km line connects the cities of Riyadh and Qurayyat via Majma'a, Qassim, Hail and Al-Jawf. The line shares infrastructure with the SAR North–South Railway line between Buraidah and Al Nafud. The Al Qurayyat depot plays an important role in the network so again, it's a real feather in Emeg's cap to have been appointed to work on it.
RN: One of your areas of expertise is in railway depots. I believe you were involved in a facility for Bombardier Transportation (now Alstom) in Derby for the testing of the new Crossrail trains. What was your brief there?
CB: Yes, that was a 24-month project for Balfour Beatty to build a new 10,000m² V-Shop facility to enable the final test and sale of trains for the Crossrail project. The facility comprised 4 roads separately controllable and interlocked, complete with full-length, under-carriage inspection pits with lighting and power. In addition, an adjoining 2-storey amenities building comprising open plan & cellular office facilities, as well as mess and locker, toilet and shower areas.
Emeg supplied a range of electrical services, including HV/LV power, substation and switchgear, overhead lines (OLE), internal and external lighting and a BMS control system. We also provided the interlocking system, gas heating, ventilation and cooling systems, and compressed air solutions.
As well as supplying and installing key operational components, our Manchester-based design team were heavily involved with planning, surveying existing services, consulting and designing the overall scheme with the client – from concept through to build. This included Level 3 Building Information Modelling (BIM) via our e-scan™ solution, lighting design, M&E building services, LV distribution, HV diversion, OLE switchgear, fire alarm & security systems, and the operational interlocking system design.
RN: You supply a depot protection system called safeNet™. How does it help make depots safer places to work? 
CB: In essence, a Depot Protection System (DPS) protects rail personnel from the dangers presented by trains in operation on a live depot by ensuring rail vehicle movements are controlled with no risk to staff. Emeg's safeNet™ DPS incorporates industry-leading features, such as bespoke software programming, automatic derailers and wheelstops, intelligent PLC controllers, individual data keys, smart train detection, visual and audible warning systems and a robust, reliable control network.
As well as meeting and exceeding the safety integrity requirements of SIL 2, safeNet™ is also the world's first DPS system with integrated facial recognition technology.
Uniquely, safeNet™ can be configured to operate 100% in accordance with specific depot operating procedures and practices, assuming of course that those procedures will result in a safe solution. Another advantage of safeNet™ is that each system is designed, manufactured, installed and maintained by Emeg's own in-house staff; no other system offers a full turnkey product and one-stop-shop service.
Emeg's safeNet™ automatic derailer system is coordinated with rolling stock lifeguards in such a way that it becomes impossible for a lifeguard to defeat the derailer. As a result, Emeg's derailer received PADS approval and is the only automatic derailer system that has Network Rail PADS approval.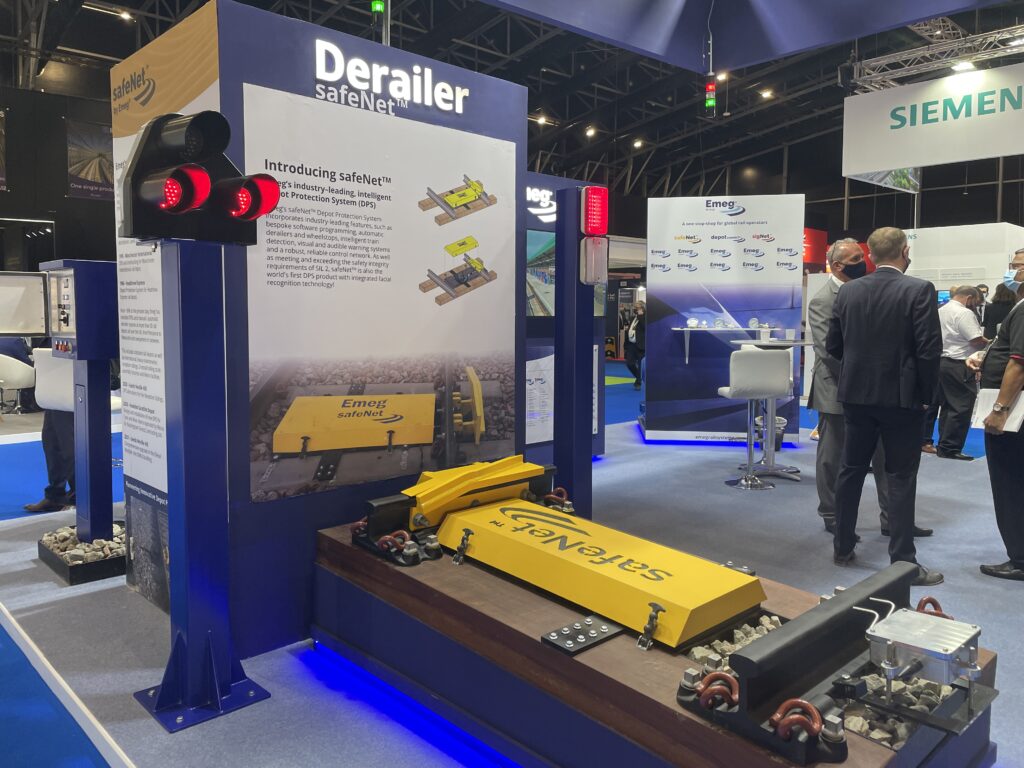 © Emeg Group
RN: Something that passengers see more so than depots of course is stations. You participated in the Euston Station remodel. What did your client, Balfour Beatty, contract you for?
CB: We are mainly focused on rail depots, either new-build projects or depot upgrade works, but we've also worked on many station refurbishment projects. The Euston Station remodel was a high-profile project for us, it being the sixth busiest railway station in Britain, the southern terminus of the West Coast Mainline and the busiest passenger route in Britain.
This was another contract for Balfour Beatty and actually took place at around the same time as the V-Shop project for Bombardier (Alstom). We're used to having 2 or 3 large-scale projects on the go at any one time so resource management wasn't an issue. We had one project team working out of central London and another firmly embedded in Derby.
The Euston project consisted of the provision of new retail spaces and the refurbishment of existing retail spaces (including the food hall), formed around a new mezzanine deck extending over the existing concourse.
The vast majority of M&E services ran through the existing concourse so we had to divert them to facilitate the main construction. As there were no records of the existing M&E services, we had to survey and physically trace out every existing service (HV/LV distribution, small power, lighting, fire alarms, public address, CCTV, data, water, heating, gas, drainage, etc.) in order to divert and relocate them. While we were there, we removed redundant services and replaced existing services with new. We also had to install temporary services (a lot!) to ensure the station remained in full operation while the works were undertaken.
Once again, our design team were heavily involved in the creation of the Form 003 design. This included surveying and upgrading the existing general and emergency lighting, associated wiring & electrical distribution, a new energy-efficient LED lighting scheme design for the concourse and service areas, a new sewage pumping station, and a cold water tank and pumping system.
If you've visited Euston Station since 2016, you'll hopefully agree that the results speak for themselves. And dare we say, the behind-the-scenes services are even more impressive than what we installed in the public areas.
RN: Can you tell our readers about some interesting projects you have in the pipeline for this year? 
CB: We have lots of exciting plans for 2022, including a stand at Middle East Rail 2022 in Abu Dhabi – the largest and most established international transport event in the Middle East. We are also Gold Sponsors of this year's prestigious exhibition.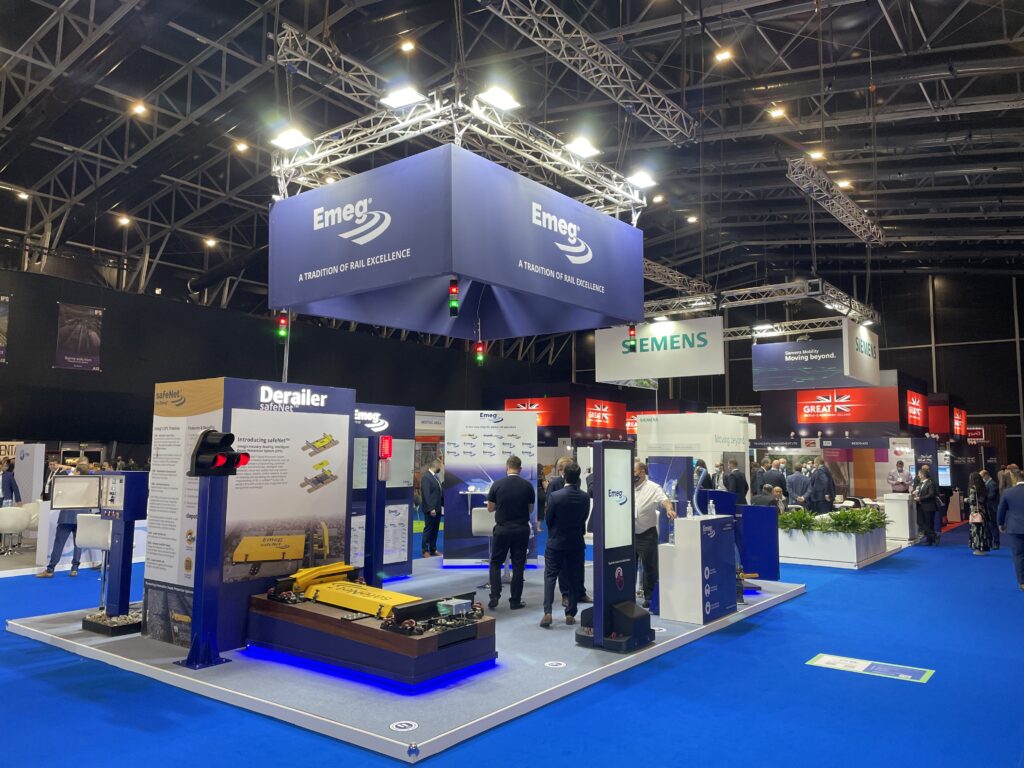 © Emeg Group
Attending and sponsoring events like this are very important as we look to consolidate Emeg Group's expansion into international markets, with a particular focus on EMEA and some of the grandest, most ambitious and exciting rail projects taking place globally.
We were Silver Sponsors of last year's ME Rail conference and expo in Dubai and even had a royal visitor to our stand so we're looking forward to meeting new people and reconnecting with some familiar faces on 17th & 18th May at the Abu Dhabi National Exhibition Centre.
Project-wise, we have 3 new fuelling projects coming up as a Principal Contractor for Network Rail. The £2m+ contract consists of the overhaul of fuelling systems at Blackpool, Barrow-in-Furness and Newton Heath depots, including the exterior cleaning and repainting of 15 large-capacity diesel fuel tanks across the three locations. We will also be carrying out modifications and replacements of the fuel pumping systems and dispenser outlets, installing our industry-leading Emeg e-fuel™ smart fuelling systems, along with pipework and overhead gantry works, which require structural overhaul and redecorating.
Further works within the contract include tank bunding replacements and repair, plant room structural works and decoration. We will also provide temporary fuelling solutions to ensure continuity of depot operations whilst the works are being carried out.
We've also been appointed by Buckingham Group Contracting Ltd (BGCL) to undertake a comprehensive schedule of work on a huge £35m improvement project at the Etches Park rail depot in Derby for East Midlands Railway. This vital upgrade work is necessary ahead of the arrival of the new Aurora train fleet in 2023 and will provide improvements in operational flexibility allowing greater train movements through the depot. As well as full building services and depot systems design and engineering, we will be supplying LV distribution systems, fume extraction, standby generators, lighting solutions, air ventilation, CET systems, shore supplies, fuelling systems, AdBlue and oil, lube and waste oil systems.
We're also working on the new Thanet Parkway Station in Kent for BAM Construction. This is an interesting project for us as the brief requires us to build a new station right next to an existing line, which obviously comes with a unique set of safety and logistical challenges, with the end goal of minimising service disruption as much as possible. Thanet Parkway is due to open next year.
All in all, 2022 is looking to be our busiest year to date, with lots of large-scale rail projects to challenge us at home and overseas, but we wouldn't have it any other way. Bring it on!
To find out more about Emeg Group and its unrivalled range of full turnkey depot products and in-house services, or to download the latest product catalogue, visit www.emeg.co.uk or call +44 (0)1246 268678 to learn how Emeg can improve safety, productivity and efficiency on your next rail project.