20 Most Inspirational Women in Rail Announced
Women in Rail (WR) has announced the 20 Most Inspirational Woman in Rail. The search, which was launched in February, is the first such survey of its kind to celebrate women in the rail sector. To qualify, they have had to positively influence others over the course of their railway careers in the rail industry, and who continue to be an inspiration to their peers, colleagues and prospective employees in the rail industry.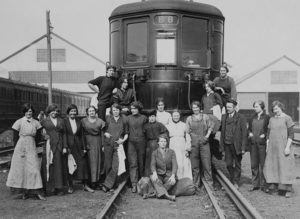 The nominees were judged on the number of nominations they received, the impact they have had on their colleagues, customers and the future of the rail sector. Nearly 200 nominations were received from men and women across the industry. The top 20 were selected by the Steering Committee of Women in Rail.
The winners will feature in a series of interviews in July.
Adeline Ginn, founder of Women in Rail said:
"We had a fantastic response to the survey. The UK railway industry employs many amazing women who need to be recognised for their outstanding contribution to our sector and the impact they have on our day-to-day lives. Narrowing the list to 20 was extremely challenging and difficult but it was crucial for us to showcase the 20 women from across the industry who have made a big difference to their managers, peers, colleagues and customers."
The 20 Most Inspirational Women are:
Alero Abbey, Area Manager Green Park at London Underground
Amelia Woodley, Thameslink Environmental Manager at Network Rail
Charley Whitelock, Community Relations Apprentice at Costain – ATC Joint Venture Project
Claire Douglas, Driver at Direct Rail Services
Clare Waller, Head of Timetable Development at Arriva
Debbie Bewley, Sustainability and Assurance Manager at Carillion Rail
Dyan Crowther, Chief Operating Officer at GTR
Helen Kellaway, Lead Systems Engineer at Siemens
Hollie Woodard , Project Manager at VolkerRail
Jane Simpson, Chief Engineer at Network Rail
Lucy Gardner, Senior Engineer at Arup
Maggie Simpson, Executive Director at Rail Freight Group
Margaret Kay, Managing Director at Stagecoach Supertram
Mary Roberts, Managing Director at Cat 1 Training
Nita Rabadia, Head of Specification and Assurance at HS2 Ltd
Sally Clarke, Upgrades Delivery Manager (Crossrail & 3rd Party) at Transport for London
Sara Clark, Commercial Guard at South West Trains
Susan Cooklin, Route Services Director at Network Rail
Suzanne Patterson, West Anglia HR Business Partner at London Overground Rail Operations Ltd
Wendy Spinks, Commercial Director at HS1 Ltd