Warsaw Metro Line 2 Contracts Awarded
Construction contracts for the Warsaw Metro Line 2 works have been awarded. The Polish subsidiary of Soletanche Bachy, geotechnical specialists Soletanche Polska, have won the construction contracts relating to the C18 station d-walls (diaphragm walls: watch this video to see the construction method) and holding tracks d-walls. This station is particularly key to the works on the Warsaw Metro, as it will serve as the launching shaft for the tunnel boring machine for the extension of the metro tracks.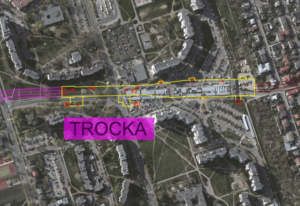 The schedule requires that 28,000m2 of 1m thick d-walls be constructed in only three months. The d-walls will hit marine clay layers, sealing the area from groundwater. The C18 station is 18m deep, which is around 10m above the water head formation level. Holding tracks, comprising 12,000m2 of 1m d-walls are required for the works.
It is expected that the scope of these will double as Warsaw Metro looks at the potential to increase their depth. Aside from the d-walls, some barrettes will need to be constructed using a top-down construction method. The works will also have to avoid utilities and disrupting Trocka Street.
The completion of the works is expected to take place in January 2017. Soletanche Polska will dedicate two teams to the task. Soletanche Polska will also be completing works in the north-east section of the metro.
The contracts are part of a multi-million-euro upgrade plan to the Warsaw Metro awarded earlier this year. Warsaw Metro Line 2 will be extended by 3.2km of track, adding three stations to the current route. Construction on the stations has already begun; they are expected to open in the middle of 2019.
Warsaw's other metro lines will be extended in due course, adding a total of 100km to the current network. The upgrade to the metro includes the provision of new rolling stock and signalling as well as an extension of the existing track, servicing further parts of the city.