Vehicle Testing Marks Major Milestone for O-Train Confederation Line
A major milestone in the O-Train Confederation Line Light Rail Transit (LRT) project was celebrated as the first light rail vehicle (LRV) assembled in Ottawa began testing on the track between Blair and Cyrville stations. Vehicle testing along the alignment from Blair Station to Tunney's Pasture will continue until the launch of the O-Train Confederation Line in 2018.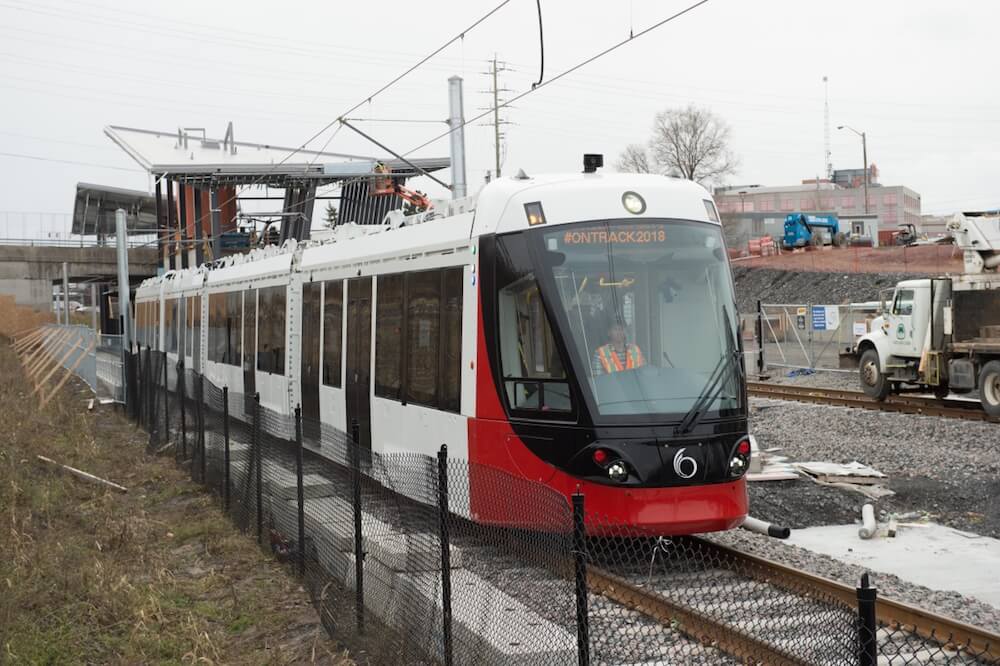 The O-Train Confederation Line is a $2.1-billion project that is jointly funded by the Government of Canada, the Province of Ontario and the City of Ottawa. The Government of Canada is contributing $600 million and the Province of Ontario is contributing up to $600 million. The City of Ottawa will also allocate up to $161.5 million of its federal Gas Tax Fund transfers to this project and $287 million of provincial gas tax transfers. The remaining project funds will come from development charge revenues and transit reserves.
The Rideau Transit Group is the private sector partner responsible for this first stage in Ottawa's future rail network. The 12.5-kilometre electric light rail line will provide rapid transit between Blair Station in the east and Tunney's Pasture Station in the west and will connect to the O-Train's Trillium Line at Bayview Station. The route includes 13 stations and a 2.5-kilometre tunnel that will reduce congestion through the downtown core.
David McGuinty, Member of Parliament for Ottawa South on behalf of the Honourable Amarjeet Sohi, Federal Minister of Infrastructure and Communities, said:
"The Government of Canada is committed to working in partnership with all orders of government to support infrastructure projects that create jobs and help the middle class grow and prosper. The O-Train Confederation Line will transform how people get where they need to go safely and efficiently, and I am pleased to see how well the project is moving ahead thanks to the tremendous effort by all involved."
The Honourable Steven Del Duca, Ontario Minister of Transportation, added: 
"This is great news for the City of Ottawa – we are one step closer to delivering an efficient and world-class transit option for commuters. Construction on the O-Train Confederation Line project supports our objectives of developing an integrated transportation network across Ontario that will help manage congestion, connect people to jobs and improve the economy and our quality of life."
For the original article, please click here.