USDOT Announces $900 Million for Maryland Purple Line Project
The U.S. Department of Transportation's Federal Transit Administration (FTA) recently announced a $900 million federal grant agreement for the Maryland Purple Line Light Rail Project.
The light rail line will make travel across Montgomery and Prince George's counties faster and more reliable for thousands of Maryland residents, improving access to major business and activity centers in the state's most populated counties.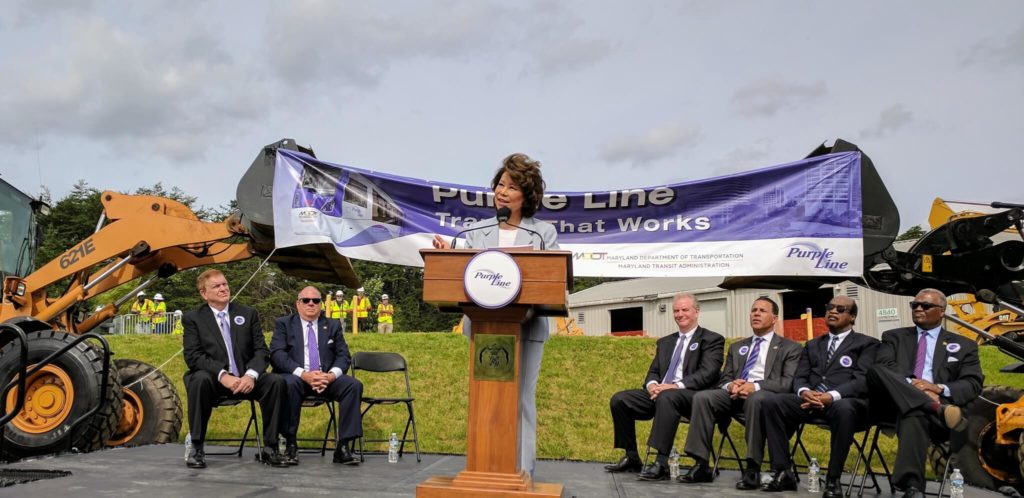 U.S. Transportation Secretary, Elaine L. Chao, said:
"The Purple Line is a great example of what can be achieved when federal, state and private partners work together"
"Combining U.S. Department of Transportation resources with private funds, this project is well on its way to transforming public transit in urban Maryland."
Maryland Purple Line Project
The 16.2-mile Maryland Purple Line will connect major activity centers in Bethesda, Silver Spring, Takoma-Langley Park, College Park, and New Carrollton to three Washington Metropolitan Area Transit Authority (WMATA) rail lines, all three Maryland Area Regional Commuter (MARC) rail lines and Amtrak's Northeast Corridor line. Although the project will provide direct connections with Metrorail and MARC, it will remain physically and operationally separate. When completed, the line will make suburb-to-suburb cross-county travel easier and faster.
The project includes the construction of 21 stations, two vehicle and maintenance storage yards with shop facilities, and the procurement of 25 articulated light-rail vehicles.
Funding, Design & Operations Support
In addition to the $900 million Full Funding Grant Agreement from FTA's Capital Investment Grants Program, US DOT announced in June 2016, a Transportation Infrastructure Finance and Innovation Act (TIFIA) loan of $874.6 million to Purple Line Transit Partners, LLC, for construction of the Maryland Purple Line.
Maryland Department of Transportation (MDOT) officials signed the $5.6 billion P3 contract in March 2016 with the Purple Line Transit Partners to design, build, finance, operate and maintain the 16.2-mile light rail system. MDOT will be the owner of the project and its selected private partner, Purple Line Transit Partners, will implement the project on a design-build-finance-operate-maintain basis.
Original article © FTA.
FOR ALL THE LATEST INFORMATION, NEWS, IMAGES, VIDEOS AND ARTICLES ON ALL ASPECTS OF INFRASTRUCTURE, PLEASE CLICK HERE.