Toshiba Emergency Running System on Tokyo Metro
Toshiba Corporation has supplied battery-based emergency running systems for Tokyo Metro's Ginza Line. The line, which is Tokyo's oldest subway line, will now benefit from the Toshiba emergency running system that ensures trains are able to transport passengers to the nearest station in the event of a total power outage. The system is installed on 40 new Ginza Line 1000 series trains which entered into service from April 2016.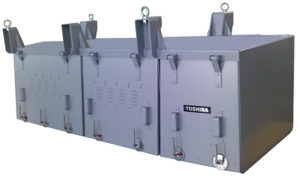 Toshiba Emergency Running System
Ordinarily, a power failure in a subway line would leave a train full of passengers in a completely dark tunnel, leaving them with no option but to walk to the nearest station. Toshiba's SCiB™ lithium-ion battery is a rechargeable battery featuring a charge/discharge control unit—ends, which ensure that trains are capable of getting to the next station under their own power. This system will improve the safety and comfort of passengers.
Toshiba's SCiB™ lithium-ion battery is safe. It is made of materials and in a structural design which is resistant to internal short-circuits and thermal runaway, and also resistant to external shocks, even those directly applied. It has a rapid recharge, with a long life, good low-temperature operation, and effective capacity in a range of environmental conditions. The Toshiba Emergency Running System comfortably meets the safety and reliability standards required by Tokyo metro.
The SCiB™ unit draws power from the third rail during normal operation to charge. In the event of a power failure, the stored electricity then supplies the propulsion system. It is also idea to supply power for the last-mile, powering a train into and out of a rail yard.
Toshiba is a leading supplier of advanced train electronic systems. It has delivered systems to Japan and internationally. The SCiB™ has diverse applications, including for e-vehicles, household and industrial storage batteries and large electrical power storage systems.