The Recyclable Train
The environmental performance of goods and services is now recognised as being essential for the overall performance of the transport sector.
By Véronique Andriès, Alstom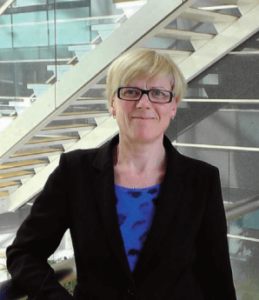 In the railway industry, energy and the efficiency of material resources have been identified as the two main levers for controlling and decreasing the environmental impact of transportation services. Energy consumption is estimated to account for 55 to 85% of the environmental footprint of a train over its lifecycle, while resources represented by materials and components could account for up to 45%.
Alstom believes that transport systems should be fluid, eco-friendly, safe, connected and accessible. The company is constantly working to enhance the environmental advantages of its solutions, for example through the deployment of its eco-design policy. Alstom is committed to reducing the environmental footprint of rail transport by developing efficient solutions in terms of energy and materials. The recyclability of rolling stock contributes significantly to material efficiency in the context of global raw material depletion. This is particularly true if the product in question is partially made from materials that have already been recycled, with a prevalence of scrap materials. Designed not only to be recyclable, but also to include recycled materials, Alstom's solutions do just that. In this respect, new trains can be regarded as contributors to the circular economy.
Old fleets: Already recyclable but….
The decommissioning and dismantling of existing train fleets provides very useful return on experience. For several years, Alstom has been gathering information through exchange with dismantlers and recyclers, and using the lessons learnt when designing new trains.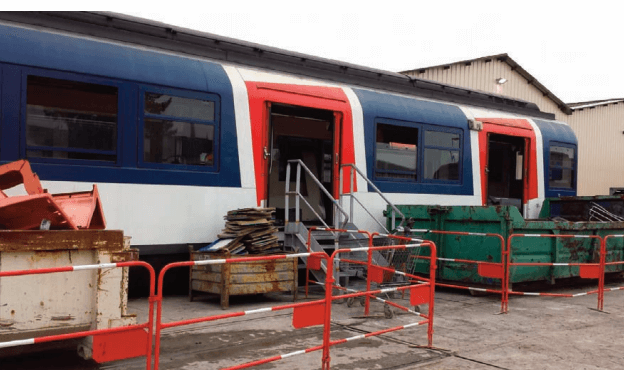 What happens when an old train reaches its end-of-life?
The first task is to drain the fluids, such as the oils and refrigerants, and to dismantle – with caution – certain components of the train, such as the batteries. Other components are then dismantled or retrieved from the train by cutting. Finally, what is left of the train goes through cutting and shredding, and the fractions are sorted and sent to the recycling industry.
The first lesson learnt is that the presence of potentially hazardous materials complicates end-of-life management, generating additional de-pollution steps that are both complex and costly, heavily influencing the business model. For example, many of the train fleets being dismantled today include asbestos-containing materials. While their presence does not represent a health concern during the operation of the train because the asbestos is embedded in other materials, an additional step is required during dismantling. This step accounts for nearly half of the duration of the total dismantling operation.
The second lesson learnt is that the recyclability of materials depends very much on the maturity and efficiency of recycling processes. The materials that benefit from the highest recyclability rate today are metals. Old trains, which contain large amounts of metals (steel, aluminium, copper, brass, etc.), are more than 90% recoverable.
The third lesson learnt is that the compatibility of materials used in assembly, and the assembly process itself, is essential for orienting components directly into the recycling process, thus avoiding material losses. For instance, gluing should only be used to assemble materials that are compatible for recycling. Floor coverings should not be glued onto a wooden floor, for example.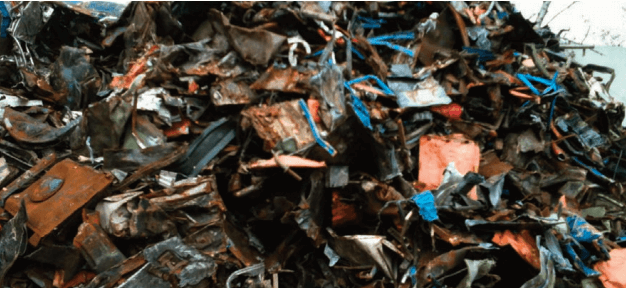 Alstom enhances the recyclability of new trains: How?
By applying a strict hazardous substance limitation strategy In compliance with our strong commitment to protecting human health and the environment, and in line with our environment, health & safety and eco-design policies, we use environmentally friendly materials for the design and manufacture of our products. Strictly limiting the use of hazardous substances in our products is one of the solutions chosen to limit the negative impact of materials and components used for rolling stock, signalling systems and spare parts.
For many years, the objective of these stringent processes has been to:
Reduce the amounts of hazardous substances used in our production sites and in our products
Reduce the environmental and sanitary impact of our activities and products over their life cycle
Anticipate technical and industrial hurdles related to the application of regulations such as REACH
Gradually substituting a substance of high concern is a means of:
Avoiding its production and the related risks
Avoiding its use in our factories or at our suppliers' sites
Avoiding any leakage or emissions either into the ground or the air breathed by passengers and rolling stock operators
Avoiding emissions during incineration when the component containing the substance becomes a waste product
Avoiding additional costs during end-of-life processing
Recycling material
By using recyclable materials:
While current train solutions are still largely based on metals, there is an increasing trend to include plastics and composites that are not always recyclable. As far as possible, Alstom selects its nonmetallic ratio from a panel of recyclable plastics.
Materials used for thermal and acoustic insulation also represent an issue for end-of-life. Mineral wools such as rockwool are not recyclable. Alstom avoids its use, proposing instead insulation solutions that are 100 % recyclable.
Textiles are still very difficult to recycle and instead can be burnt using energy recovery.
Avoiding incompatibility and permanent assembly… Providing information on systems material composition and guidance for dismantling.
During the design phase, Alstom avoids mixing "non-compatible" materials, especially if their separation after cutting, shredding and grinding is difficult, as it is for non-compatible plastics such as polypropylene (PP) and polyethylene terephthalate (PET).
In these cases, the corresponding fraction has to be burnt instead of being recycled.
A final important provision to optimise dismantling and provide the best recycling routing is to produce guidance for the end of life of trains, providing information on:
-Parts and components that should be drained or "dismantled" with caution and routed to special reclaiming industries
-Parts and components that should be dismantled before direct routing to the recycling industry
-Materials used for the different parts and sub-systems and their dismantling process Some examples
Alstom's Coradia Polyvalent offers a second life for waste, containing more than 32 tonnes of recycled materials. The train is 93.3% recyclable and 98.5% recoverable. Even taking its 40-year-plus lifetime into consideration, if current recycling practices are applied, for a 152-tonne train, 66.3 tonnes would be dismantled and sent directly to recycling. The rest would be cut, shredded and ground before the sorting of different material fractions for recycling, burning or waste disposal.