Transport for London (TfL) has confirmed that the Northern line Bank branch will re-open on 16 May following a 17-week closure as part of the Bank Station Capacity Upgrade project, which has been ongoing since 2016.
All Northern line services between Kennington and Moorgate will resume from Monday 16 May, alongside the opening of the new, wider southbound Northern line platform and customer concourse at Bank station.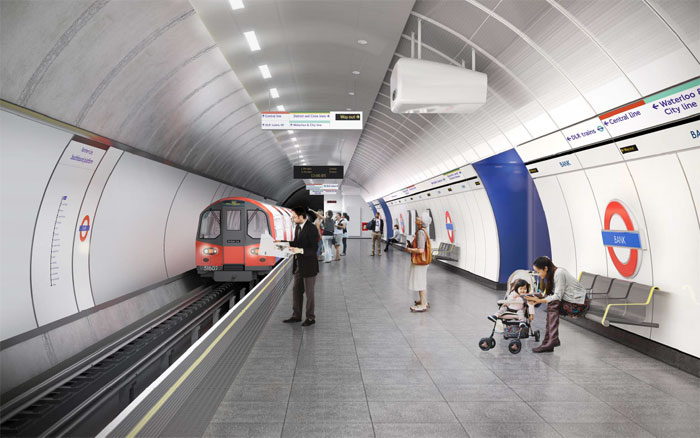 TfL's project team has worked throughout the 17-week closure to finalise the brand-new Northern line tunnel and passenger concourse. New track and railway systems have been installed within the tunnel, which has been commissioned with multiple test trains. Three passageways have also been added to allow customers to efficiently move around the station, following new signage and directions from London Underground staff.
Work will now continue on step-free access to the Northern line, a new station entrance and new, more direct interchanges between the DLR, Northern and Central lines. These final stages of work at Bank station are on schedule to be completed by the end of the year.
"I'm delighted to confirm that we're on schedule to fully re-open the Northern line on Monday 16 May after successfully completing the challenging next phase of vital upgrade works at Bank station. The improvements we're making at Bank station will be finished by the end of this year and will totally transform customer journeys through the station. Anyone who's familiar with Bank station will know how its labyrinthian layout can be confusing and time-consuming to navigate. Northern line customers now have a new, wider southbound platform and spacious customer concourse. The countdown is on for completing the rest of this major upgrade which is one of the largest and most complicated subterranean railway complexes in the world."
The upgrades at Bank station will increase station capacity by 40 percent upon completion. The new design features more direct routes within the station, as well as a new entrance on Cannon Street. This project supports London's ongoing growth by addressing long-standing capacity issues and making journeys through Bank safer and easier.
During the closure of the Bank branch, essential work was also carried out at other stations, including London Bridge, Borough, and Elephant & Castle to minimise future disruptions. This included work on lifts and escalators, as well as refurbishment work at Borough, and preliminary works for the future Elephant & Castle station upgrade.