Stadler's Giruno Makes First Journey Through Gotthard Base Tunnel
On Sunday 2 July 2017, the Stadler EC250 train, also known as the Giruno, completed its first crossing of the Gotthard Base Tunnel.
The next stage of high-speed trial runs will be carried out on the railway test circuit in the Czech Republic.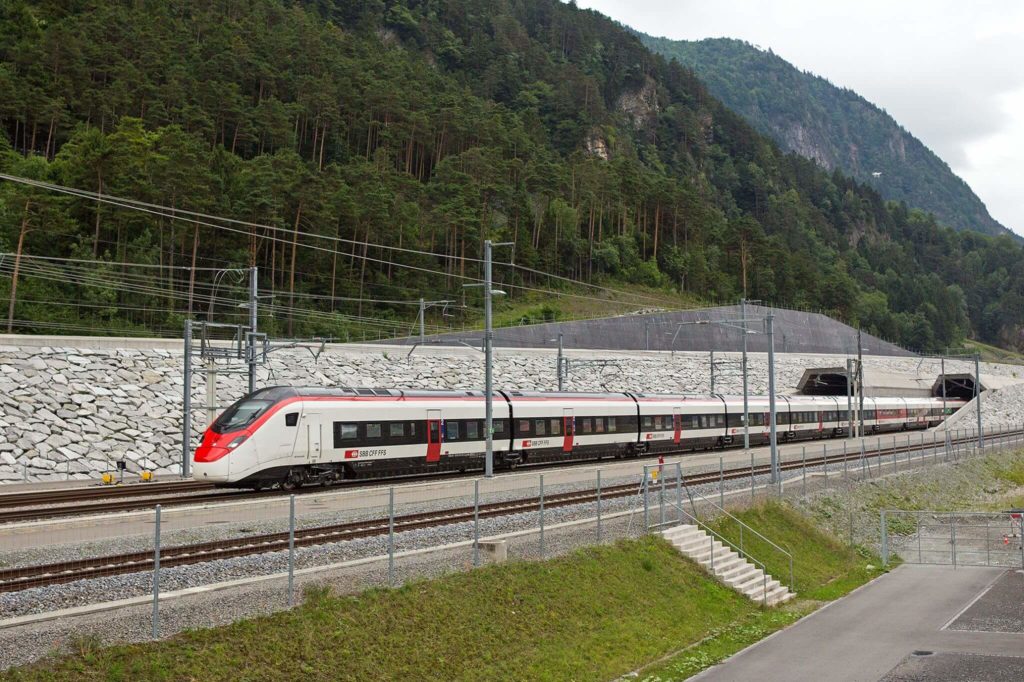 For Stadler, the Swiss rail vehicle manufacturer, the EC250's first crossing of the longest rail tunnel in the world was a complete success – despite the top speed reaching only 100 km/h.
Extensive Testing
The journey has demonstrated that the EC250 meets the standards required to operate in the extreme environmental conditions in the tunnel. The Giruno will now be thoroughly tested in the Czech Republic. It will complete high-speed trial runs of 100 km/h and more on the Velim railway test circuit. The speed of the vehicle will be gradually increased during these test runs. These tests are part of Stadler's commissioning procedure, pre-commissioning safety inspection and network approval for the new Stadler high-speed multiple unit train. Further extensive testing will subsequently be carried out in the four countries in which the train will operate: Switzerland, Germany, Italy and Austria.
Stadler's Giruno
The Giruno was presented to the general public for the first time at its roll-out on 18 May 2017 in Bussnang. The occasion was celebrated in the presence of Doris Leuthard, Head of the Federal Department of the Environment, Transport, Energy and Communications (DETEC); SBB CEO Andreas Meyer; and many other important names in politics and business.
The Giruno was designed with a special focus on comfort and customer-friendliness, in particular for families, senior citizens and persons with restricted mobility. The low-floor access – a first for a high-speed multiple unit train series – transforms climbing aboard for passengers to simply stepping inside. In the interior, passengers can expect a spacious and bright interior design with a state-of-the-art lighting solution. In order to keep passengers occupied and happy on long trips through tunnels, the Giruno also features a range of additional amenities: a 3G/4G mobile communications amplifier, sockets at every seat, large luggage racks and separate toilets for men and women, as well as special toilets for disabled passengers. The trains are 202 metres long and contain seats for 405 passengers, 117 of which are in first class and 288 of which are in second class. Multifunctional zones and a special compartment for bicycles allow for efficient use of space in the train.
Original article © Stadler.
FOR ALL THE LATEST INFORMATION, NEWS, IMAGES, VIDEOS AND ARTICLES ON ALL ASPECTS OF ROLLING STOCK, PLEASE CLICK HERE.