Keeping Rail On Track: REMSA's Vision for 2018
Dave Tennent, Executive Director, REMSA
The Railway Engineering-Maintenance Suppliers Association (REMSA) is an organization which represents the interests of railway engineers, contractors and suppliers in the United States of America. In this comment for Railway-News, Dave Tennent, Executive Director of REMSA outlines his priorities for advocacy in 2018.
On January 20, 2017, President Donald Trump promised the people of the United States, "we will build new roads, highways, and bridges, and airports, and tunnels, and railways all across our wonderful nation." The domestic rail supply industry was ecstatic. This new administration sounded ready to re-invest in American infrastructure and rail suppliers were ready to meet this challenge. He repeated this sentiment on the 30th of January, 2018 when he delivered his first State of the Union Address to a joint session of Congress. Further, he pledged to create wealth and manufacturing jobs around the United States, but with the first year of the Trump Administration fading into the rearview mirror and a midterm election getting closer every day, we may be missing our political opportunity to renew America's infrastructure.
REMSA is a proud trade group with a membership of over 330 railway engineers, contractors, and maintenance-of-way suppliers across the country. Our $5 billion railroad maintenance-of-way industry supports over 35,000 jobs nationwide and is committed to supporting a strong railroad industry in the United States and around the globe. In 2015, we launched a government advocacy program to encourage strong railroad policies from the United States government. We recently released our 2018 Advocacy Priorities and will be actively working with the entire U.S. rail industry to ensure the Trump Administration pursues infrastructure investments and sound regulatory policies.
Rail in the USA: Costs and Values
The current U.S. Congress has a prime opportunity to enact a bi-partisan infrastructure package, which would fulfill President Trump's infrastructure investment and job creation promises. While this package is expected to holistically invest in American infrastructure, we believe it should provide funding for transit systems and passenger railroads, stabilize highway funding, and fix a well-intentioned railroad financing program. If enacted, these priorities would ease congestion, provide certainty in local road planning, and spur railroad infrastructure projects around the country. Time is of the essence and there is no telling what the political landscape will look like by the fall 2018.
The infrastructure package is likely to dominate Washington headlines in the near future, but it is not our organization's only priority. We will also be advocating for policies that support reliable first-and-last mile rail service in the United States and closely watching proposed regulations from the Surface Transportation Board that risk disrupting railroad investments.
While U.S. rail policy is of great interest to our organization, our membership is constantly seeking new opportunities in the global rail market. In the United States, we have seen some noticeable cutbacks in Class I railroad capital spending over the last couple of years. Early reports indicate this trend may well continue into 2018. Fortunately, many states and localities are stepping up to fund transit in their jurisdictions, creating some exciting opportunities, particularly in the western United States. However, transit projects do not make up the deficit of the recent cutback in freight spending.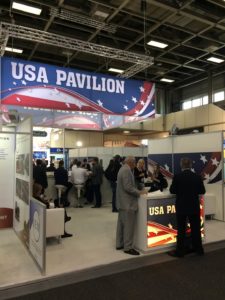 REMSA at InnoTrans
REMSA is proud to once again sponsor the USA Pavilion, which brings U.S. companies to select international trade shows around the world to showcase their products and services.  This year, we will be joined by over a dozen of our member companies and affiliate members at InnoTrans 2018, which takes place every two years in Berlin, Germany and attracts over 120,000 attendees from all sectors of the transportation industry.  It is tough to overstate the importance of participating in InnoTrans. It is an unparalleled opportunity to increase contacts globally, while learning about railway trends from around the world. The United States has long been a global leader in railroad technology and REMSA takes pride in the exciting products our membership has to exhibit.
For more information on REMSA and how to join the association please visit: REMSA
FOR ALL THE LATEST INFORMATION, NEWS, IMAGES, VIDEOS AND ARTICLES ON ALL ASPECTS OF INFRASTRUCTURE, PLEASE CLICK HERE.