Government Minister Carmen Walker Späh Visits Amberg Technologies AG
On 10 March 2017, Marcel Kalbermatter, CEO of Amberg Technologies AG, welcomed Mrs Regierungsrat Carmen Walker Späh and delegation at the headquarters in Regensdorf.
The participants were, together with Mrs Carmen Walker, Mr Bruno Aebischer, Secretary General of the Directorate- General for Economic Affairs, Bruno Sauter, Office for Economic Affairs and Labor, Markus Assfalg, Head of Promotion and Markus Traber, Office for Transport. The group was accompanied by Mr. Max Walter, President of the Municipality of Regensdorf.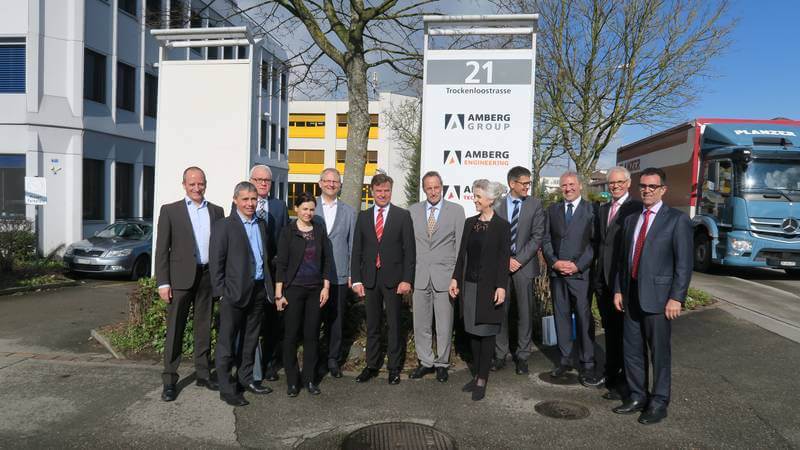 Innovative Railway and Tunnel Surveying
After a brief introduction to the company and its history, the participants were able to gain an insight into our tunnel surveying, tunnel seismics and web surveying during a tour. With practical application examples and current projects, the delegation was introduced to Amberg's innovative products and solutions.
Subsequently, the delegation had the opportunity to meet with representatives of Amberg Technologies AG as well as the company owner, Mr. Felix Amberg, on current topics such as, among other things, the fight for experts, the promotion of innovation and the promotion of the location.
Marcel Kalbermatter, CEO of Amberg Technologies AG, said:
"The visit of the delegation and the related interest in our company and our services is a great appreciation. This encourages us to continue to actively promote innovation and thus to invest in the future"
Original article © Amberg Technologies.
FOR ALL THE LATEST INFORMATION, NEWS, IMAGES, VIDEOS AND DOCUMENTS FROM AMBERG TECHNOLOGIES, PLEASE CLICK HERE.