Frauscher becomes a member of Alstom Alliance
Frauscher and Alstom deepen their relationship in a long-term leading supplier agreement. Frauscher has joined the Alstom Alliance, the strategic partnership programme of Alstom. The charter was signed by Olivier Baril, CPO Alstom, and Michael Thiel, CEO Frauscher Sensor Technology. Alstom Alliance acknowledges approx. 30 companies who work closely with Alstom in terms of business development, industrial excellence as well as products and innovations.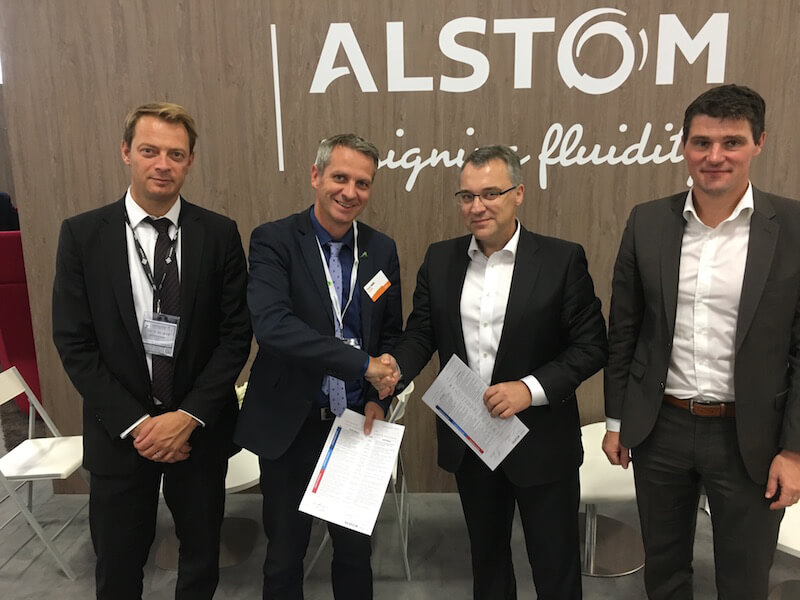 Olivier Baril said:
"It is a key objective of Alstom to fulfil customer's expectations of quality, excellence, innovation and costs. Therefore we are sure that it is more important than ever today to attract and develop jointly rewarding, long-term partnerships with suppliers who have proven ability in the increasingly competitive global railway market. Companies who are known to deliver the highest quality, most innovative and cost-efficient products to market in a reliable, ethical and timely fashion are acknowledged and supported through Alstom Alliance. Frauscher fits perfectly with these requirements and we are looking forward to a close cooperation"
Michael Thiel agreed and emphasised Frauscher's view on the most important corner stones of the agreement:
"We think that sharing strategic information and business intelligence implies great value for Frauscher and Alstom as suppliers, as well as for our customers. In the end it is them who benefit from improved operational performance due to useful capacity adjustments, continuous value chain optimisation and even greater innovative strength based on an open exchange of requirements and approaches of global players."
About Frauscher
Track more with less: Frauscher Sensor Technology makes it simpler for system integrators and railway operators to obtain the information they need to run, monitor and protect their operational network. Best-in-class wheel detection systems, axle counters and tracking solutions based on inductive sensor technology and distributed acoustic sensing form an essential component of a wide range of applications.
Frauscher experts are on-site in global markets to ensure comprehensive support during the whole customer life cycle. Additionally customers are able to design, configure, install, adapt and maintain all components and systems by themselves due to individual trainings and support.
For more information, please visit Frauscher.