Construction of Panama Metro Line 2 Passes Halfway Mark
Progress on the construction of Panama Metro Line 2 has now reached 53% according to FCC, one of the firms contracted to build the extension.
The Line 2 project will have a positive impact on more than half a million Panamanians living in the eastern area of the capital city.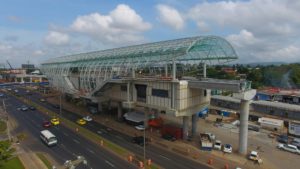 Panama Metro Line 2
The Line 2 project has 37 active work sites in total, with approximately 4,000 workers and more than 100 sub-contractors.
Work on the underground infrastructure there includes drainage, channelling and firefighting systems as well as the installation of catenary posts, the building of the platforms for the station tracks, construction of mechanical workshops and administrative offices and power sub-stations.
Tracklaying
Work is also continuing on the laying of the railway track on the viaduct over the Pan-American highway and the Domingo Díaz road with 19 kilometres already laid. The installation of the catenary posts, trays and guard rails on the viaduct is also underway.
Metro Stations
The stations with the greatest construction progress to date are Pedregal, Las Acacias, Hospital de Este, Cincuentenario, San Antonio and Las Mañanitas. The remaining work on these stations includes the installation of the rooves, escalators and stairs, technical rooms at the lobby level and station accesses.
In the next few months, the work will be focused on finishing the 16 stations, the civil engineering and the installation of electrical, communications, fire protection and water supply systems. The 23 kilometres of viaduct will also be finished, mainly in the San Miguelito area and the Avenida Domingo Díaz, among other tasks.
Work is expected to be complete by the first quarter of 2019.
Original article © FCC.
FOR ALL THE LATEST INFORMATION, NEWS, IMAGES, VIDEOS AND ARTICLES ON ALL ASPECTS OF INFRASTRUCTURE, PLEASE CLICK HERE.