CAF México Win Mexico City Metro Contract
The Mexican transportation organisation of the Federal District Government, Sistema de Transporte Colectivo, has awarded the contract for ten pneumatic tyred-trains for Line 1 in the Mexico City Metro to CAF México. The contract is worth around €164 million. The units will be delivered in the first half of 2018.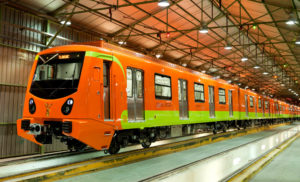 Mexico City Metro is currently undertaking a programme of works to refurbish vehicles and infrastructure. This contract is a part of that programme. CAF has been active in Mexican rail projects since 1992, since which time it has supplied rolling stock to a number of Metro lines in Mexico City. It has also provided maintenance services.
CAF has also worked in close partnership with Mexican Capital Metro by way of a 15 year PPS contract (Service Provision Contract), which CAF won in the latter part of 2009. This contracted included the leasing of 30 Metro units, in addition to comprehensive train maintenance for the term of the contract.
Also. In Mexico, CAF supplied the passenger railroad transit project, the Buenavista-Cuautitlán commuter line in Mexico City, D.F. This contract included the supply of vehicles and a concession operation for 50 year. This contract was awarded in 2008. CAF also supplies a current intercity train project between Mexico City and Toluca. This contract includes the provision of 30 Electric Units, and a part of the signalling system on the line. CAF also has a hand in the line's integration engineering and coordination.
This latest contract with Mexico City Metro as their leading supplier will further strengthen CAF's presence in the Mexican rail industry. It also Bolsters CAF's position as a leading rolling stock manufacturer of rail vehicles in the Americas, with further projects currently being undertaken or already in operation in the USA, Brazil, Venezuela, Colombia, Ecuador and Chile.