Beacon Rail Leasing Acquire Ascendos Rail
European rolling stock lessors Beacon Rail Leasing have announced that they have acquired Ascendos Rail Leasing S.à. r.l., a European locomotive and rolling stock leasing company. The announcement comes following clearance with German competition authorities. The deal was struck in May 2016.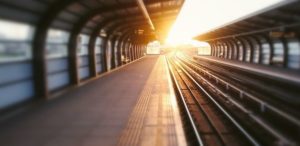 The two companies have a combined portfolio of 225 locomotives and 1,000 wagons currently being leased in Europe – in the UK, Scandinavia, Belgium, the Netherlands, Poland and Germany. Additionally, they have 55 passenger train units being leased in the UK and Germany, 67 double-decker coaches being leased in Denmark, and 13 sets of Mark 5 coaches soon to enter operation by TransPennine Express in the UK.
Ted Gaffney, Chief Executive Officer of Beacon, said:
"The acquisition of Ascendos allows us to continue to build our portfolio of locomotives and is in line with our strategy and commitment to being a leader in this segment of the market.  Ascendos' portfolio of rolling stock nicely complements our existing fleet of locomotives and allows us to expand our presence into the European passenger train market.  Overall, we believe that the portfolio and staff of Ascendos is a great fit for Beacon and is additive to our existing platform.

"The closing on the acquisition of Ascendos marks the beginning of a new chapter for Beacon Rail. We are committed to providing quality, state of the art rolling stock to the UK and European freight and passenger markets and welcome the Ascendos employees to the Beacon family."
Beacon was acquired by Pamplona Capital Management in May 2014 via Pamplona Capital Partners III, LP, a vehicle created in 2011 with $2.7 billion of committed capital. Since this time, Beacon has been active in the acquisition of assets by way of portfolio acquisitions, new build orders and close of sale/leaseback transactions. These have been undertaken with various freight and passenger operators, and has significantly increased Beacon's portfolio as well as diversifying their leasee and asset base over that time.
The acquisition was financed by ING Bank and the London branch of Deutsche Bank AG. Counsel for the acquisition was Paisner LLP and Lowenstein Sandler LLP for Beacon and Pamplona, respectively. Clifford Chance acted for the lenders.