Webinar: Making the Move to Condition Based Maintenance
Date: June 2nd, 2022 
Time: Start 11:00 am – 12:30 pm (CET)
In the new rail world, maintenance productivity will take a central stage as operators focus on lowering operational costs and striving for 24/7 availability of the assets.
Operators embrace the power of data and gradually derive meaningful insight to inform strategic and operational decisions for operations and maintenance.
Join the experts of Televic GSP and Ricardo in a joint webinar on June 2nd to discuss how to make the move to Condition Based Maintenance.
Listen to the panel of experts:
Rudi Maerschalck l Country Leader Ricardo Belgium
Maarten de Vries l Reliability and Maintenance Engineer – Ricardo
Glyn Arthur l Global Business Development Televic GSP
We'll host a live Q&A at the end of the presentation, so bring in all your questions!
Date: June 2nd, 2022, Time: Start 11:00 am – 12:30 pm (CET)
To register, please complete this form.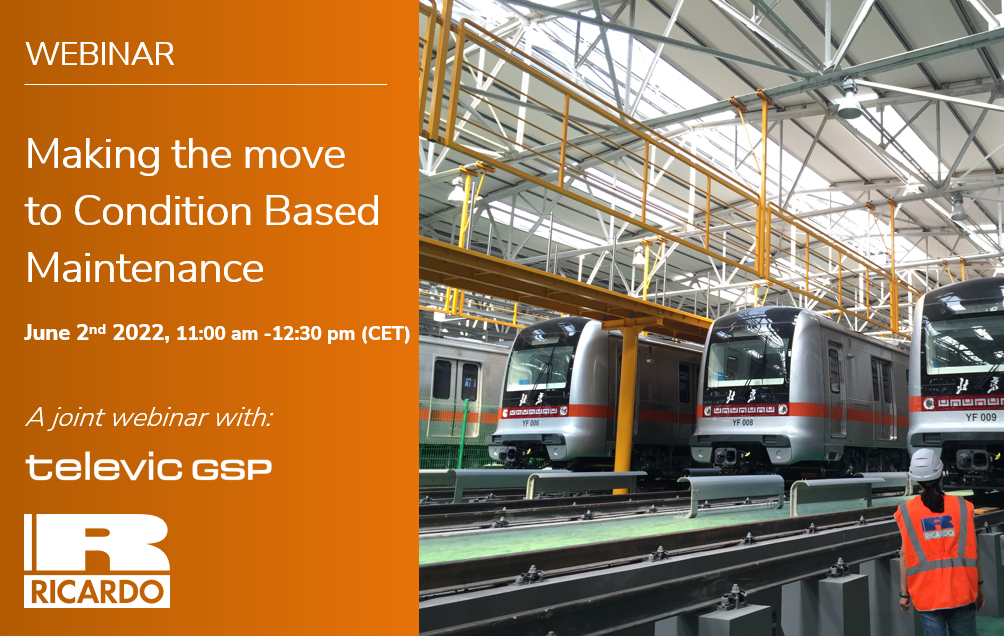 This article was originally published by Ricardo Rail.
About Ricardo Rail
Ricardo Rail are a global rail consultancy providing technical expertise, assurance and specialist engineering services.
With capabilities in all disciplines, from rolling stock, signalling and telecommunications, to energy efficiency, decarbonisation, safety management and operational planning, we support a client portfolio that ranges from some of the world's largest rail administrations to niche component suppliers.