Ricardo Partners with Korea Transportation Safety Authority to Strengthen Rail Safety
Ricardo has signed a Memorandum of Understanding (MoU) with the Korea Transportation Safety Authority (TS) to collaborate on a range of initiatives that will bolster railway safety practices across Korea.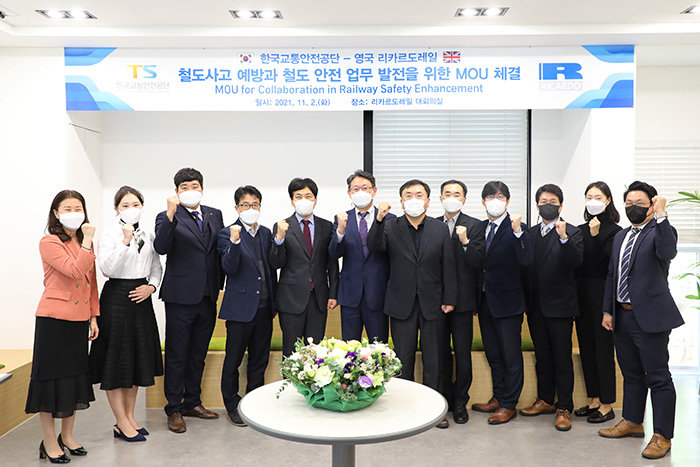 The memorandum sets out plans to develop a new programme of accident prevention training, commence research into enhancing Safety Management Systems used across the industry, and cooperate on a railway type approval and certification system.
"This MOU will serve as a basis in adding expertise to railway safety training and advancing the railway safety management system. We will continue to strive to create an environment where railway accidents and operational failures can be proactively prevented so that people can use a safer and better railway."
"I wish to extend a warm gesture of thanks to TS for this valuable opportunity. It's always tremendously rewarding when two professional organisations commit to a shared goal. In this case, our objective is to provide Korea's railway industry with the best possible support to promote safety initiatives and exchange best practice for the benefit of everyone who uses public transport."
Commitment to Improve Safety throughout Korea's Rail Sector
A priority of the MoU is a training programme that will raise awareness and understanding of potential risks and its assessment in terms of railway safety. Ricardo's experts will play an important role in this initiative, utilising their insight from a wealth of project experience in the relevant fields.
Another workstream will establish a railway type approval and certification system within TS who, following the increase in demand for railway system type approvals, have recently taken on this role and are seeking to improve the certification criteria to meet international levels.
A third area of work will establish new processes and channels to encourage the sharing of safety information and advice. This will include a series of technical seminars and symposiums to bring the Korean rail industry together to agree future developments and prioritise further initiatives.
Ricardo expects this new partnership with TS to serve as an opportunity to extend our relationship beyond safety assessments services and establish a firm partnership committed to improving safety across every aspect of Korea's rail sector.
This article was originally published by Ricardo Rail.