Ricardo Named Assurance Partner for Recreation of 1950s Steam Locomotive for 21st Century Railway
Ricardo has been appointed as the Independent Certification Body for the development of a new steam locomotive that will operate on the UK network.
The Standard Steam Locomotive Company (SSLC), a volunteer-led charitable organisation, has embarked on a project to build a new steam locomotive, 72010 Hengist, using the original British Railways engineering designs for the class 6 'Clan' Pacific locomotive.

Ten 'Clan' locomotives were built between 1951 and 1952, and a further 15 were planned. Some of the proposed locomotives had even been allocated names and numbers – with 72010 Hengist to be the 11th in the series – before a combination of steel shortages and the adoption of diesel traction power led to the cancellation of production in 1955. The entire class was subsequently scrapped in the 1960s, with none of the original vehicles preserved.
Now, SSLC are restarting the series by building what would have been the next locomotive in the class. And whilst the new Hengist will feature modern materials and safety systems to comply with today's more exacting requirements, it will otherwise remain faithful to the original 1950s designs.
A Unique Partner for the UK's Heritage Sector
To ensure the completed locomotive will be permitted to operate on the 21st century railway, an Independent Certification Body must be appointed to review the project's design, construction and maintenance plans against recognised industry standards.
As the only accredited Assessment Party serving the UK's heritage railway sector, Ricardo will guide SSLC through the extensive assurance requirements, providing specialist support to ensure all safety requirements are identified and implemented as efficiently as possible.
Once satisfied that the relevant standards have been met, we will issue formal certification that permits the locomotive to operate on the UK mainline network.
"The appointment of Ricardo as our Assurance Party marks a significant step in our plans to build and operate 72010-Hengist on the UK mainline network.
"In October 2021 we revitalised our project with a complete rebrand to underpin a new eight-year build plan for Hengist, and welcoming Ricardo on board as a partner is a significant step in delivering this and achieving our vision for Hengist. Our locomotive works at CTL Seal in Sheffield are delivering to the exacting standards needed to operate on the mainline and Ricardo will be instrumental in our journey translating this into a living, breathing steam locomotive that will operate for decades to come."
"We are proud that SSLC have selected Ricardo to act as their assurance partner and we look forward to a close working relationship.
"It is a privilege to work on these heritage projects. We are currently performing assurance roles on six new steam locomotives around the UK, with each, just like Hengist, driven by dedicated teams with a huge passion for recreating iconic locomotives from the industry's past that often become popular attractions in their own right.
"Although we will maintain an independent stance throughout, we are able to provide specialist support and advice to each project. We can also use our oversight position to promote collaboration and the sharing of best practice."
Hengist is being constructed at CTL Seal Ltd premises in Sheffield, with frames already assembled and many components on order against exacting standards to ensure operating safety and reliability on the 21st century railway.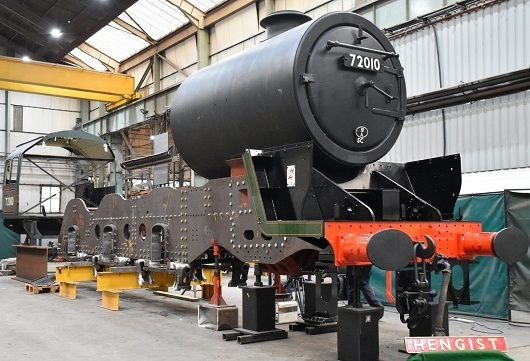 Enduring Popularity of Heritage Rail
The UK's heritage railways retain an enduring popularity with rail enthusiasts and the general public alike. According to the Office of Rail and Road, the national railway safety regulator, there are currently more than 200 'minor and heritage' systems around the country.
Though most are privately owned enterprises operating on infrastructure separate from the mainline, some vehicles are certified to run special services on the mainline network.
SSLC plan for Hengist to have a 'go-anywhere' capability, meaning it can potentially operate on large amounts of the GB rail network as well as a wide range of heritage lines around the country, but with the benefit of lower maintenance and running costs that will derive from applying modern materials and construction practices.
Ricardo has a proud history of supporting steam railways around the UK. We are the country's only UKAS accredited Assessment Party for the heritage sector, meaning we have proven our specialist skills and processes in this arena to the UK authorities, and can advise and support these complex and unique projects from design through construction to operation and ongoing maintenance.
This article was originally published by Ricardo Rail.